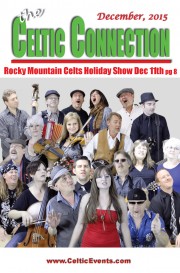 (The Rocky Mountain Celtic will perform in Denver on Friday December 11, 2015 – see details at the end of article)
Mike Nile and The Rocky Mountain Celts
By Rodger Hara
Thomas Wolfe is noted for observing that "You can't go home again." This is a story about how sometimes you can go home again and about a unique Celtic music undertaking.
Mike Nile grew up in Colorado, moved to California in the late 70's and lived in Malibu until the early 90's. There, he a band called "Nile" and built a recording studio in the canyons of Malibu called "Nileland", one of the only public studios in Malibu at that time. In it, he recorded artists like Mick Fleetwood, Dave Mason, Little Feat and Jan & Dean – country, rock, pop, even disco for Georgio Moroder. As the studio was taking off and he was spending most of his time recording and producing, he decided to let his band go to concentrate on studio production. But then he met ex-Camel keyboardist Pete Bardens through Mick Fleetwood and ended up touring with Pete Bardens and Mick playing bass in the Speed of Light Band.
An old friend, guitarist Randy California from the band Spirit, had signed a deal with IRS Records for a new Spirit record and asked him to engineer and play some bass. Randy and drummer Ed Cassidy came into Nileland and recorded the Sprit album "Rapture in the Chambers". When the album was finished Randy asked him if he would be interested in joining Spirit. He joined the band for an initial 5 week tour to see how it would go and ended up playing bass, singing and writing songs with the band for a little over 9 years.
With a young family at home, he started finding it harder to be out on the road 150 days a year with Spirit. His engineer and producing partner at Nileland Studios, Neale Heywood had started playing guitar with Lindsey Buckingham of Fleetwood Mac and had been asked to join Fleetwood Mac as guitarist so in 1993, he decided it was time to close Nileland Studios and move his family and studio to Colorado.
In Denver he opened a recording studio and record label with Dave Fox and Chris Cardone called Alley Recording Studios where he produced and engineered many talented Denver musicians. One of them was a vocalist from Dublin named Damien McCarron. Mike engineered, produced and played bass on Damien's debut CD "Damien Promise – A Matter of Indulgence". On the CD Damien called all the musicians who had recorded on the CD "The Indulgers".
In 1998 Fado Irish Pub was built next to Coors Field and Damien was asked if he was interested in being the "house" band. He called and asked Mike if he would join The Indulgers – and so he did, with the understanding that he could play whatever instrument I wanted to play – guitar, mandolin, whistle and accordion – he just didn't want to play bass. The Indulgers played every Wednesday night at Fado Irish Pub for four years. The band was not interested in being just an Irish cover band and from the beginning wrote their own music. Their first song, "In Like Flynn" won best Celtic song of the year at Just Plain Folks. The Indulgers have toured all over America and Ireland for seventeen years, playing pubs, city concerts, and festivals from San Francisco to New York City, including a six year stint in Las Vegas at the Summerlin Resort and The Orleans. The Indulgers are currently recording and filming their new song "Right As Rain" for a St. Patrick's Day release at Mike's new recording studio, Grapevine Studios in Wheat Ridge.
The idea for formation of the Rocky Mountain Celts came to Mike in the fall of 2014 when he wrote a Christmas song called "Christmas Lullaby" that did not quite fit The Indulgers style. In his head, he heard a larger "Celtic orchestra" sound, and the thought of putting together an orchestra comprised of different local Celtic musicians and vocalists instead of multi-tracking it in the studio was intriguing. He wanted to record "Christmas Lullaby" and then shoot a video that could be released on YouTube for the holidays.
He had met Karen Lauffer and Justin Lancaster from Delilah's Revenge and Sean Gaughan from Big Paddy when they played festivals together, but knew them only in passing. He invited them to come to Grapevine Studios and listen to his new Christmas song and talk about possibly recording and shooting a video together. After meeting and talking, all agreed to work on the song and video. Karen played a rough recording he had of the song to one of her musical partners who played the harp who agreed to play on the song.
He called this writer and asked me if my vocal group, the Celtic Friends would be interested in singing on the song and if I knew of any other Celtic bands and musicians that might be interested in participating in the project. I made suggestions and he contacted several different Celtic musicians, some wishing they could participate, but just not having the time, while others musicians came from as far as Colorado Springs to record the song.
In all, 23 Celtic musicians performed on the first Rocky Mountain Celts song/video "Christmas Lullaby" The Rocky Mountain Celts now had an amazing string section with three violins, cello, and upright bass. There were four guitars, mandolin, accordion, and nine vocalists. He chose Red Rocks Amphitheatre, easily one of the premier performance stages in the country and recognized all over the world as the staging for the video.
"Christmas Lullaby" was released on YouTube (https://www.youtube.com/watch?v=aLdhdWq3Q4o.) in time for Christmas on December 14, 2014 to a pleasantly strong reception. Such was the interest, that Mike was asked if the orchestra was available to perform, and what might be next for the group. At that point, he did not know what was next. It had been fun recording the song, shooting the video and getting to know each musician and the different bands, but it had been a big undertaking, and he had not thought about taking it further as he was busy shooting a video with The Indulgers. Phone calls and emails about the Rocky Mountain Celts kept coming, so when he finished the Indulgers video, he decided it was worth getting the Rocky Mountain Celts back together for another song and video and see if the first chemistry on the video and musical interaction between the different musicians could still work.
"Rocky Mountain Snow" was recorded and released on March 14, 2015 just in time for St. Patrick's Day (https://www.youtube.com/watch?v=DKvTibRnF40). The song featured the same musician lineup with a few new members from The McDeviants and Angus Mohr. The video was shot at various ski resorts, capturing some nice rides down the mountains, while showing the musicians performing the song in the studio. It was once again a great experience bringing everyone together. The thought of putting together a live Rocky Mountain Celts show started to become a reality, and after a few meetings, ideas for a "theatrical" Rocky Mountain Celts show started to develop – a show featuring a piper, dancers, drums, and music from all the various local Celtic bands that comprised the Rocky Mountain Celts.
The strong reaction to the 2nd video inspired Mike to write a song and shoot a film for the Rocky Mountain Celts that would follow the story line of the song and feature young actors, a dancer, a castle and motorcycles. That song and video "Wild Gypsy Rover" were released October 22, 2015 (https://www.youtube.com/watch?v=y17CqztRqWE ).
When asked to comment on her experience with the Rocky Mountain Celts, Cheryl Ward of the 6-year-old band Celtic Friends said "I love the excitement of a new project, the practices with all of Mike's talent, and being part of his vision! What I have gotten out of this is just a whole lot of pride and joy when the final piece comes up on You-Tube. I love hearing how the other bands interpreted the same notes, hearing some of my treasured groups' beautiful voices and talents recorded and seeing so many I love working on one big project together. It's exciting for me, as I keep a list of over 600 local Celtic musicians for the purpose of joining this beautiful musical family together on any possible Celtic music event, and this is the perfect coming together. I am very proud to be a part of this. My favorite song is "Christmas Lullaby". It has this beautiful haunting sound from the past. A Jethro Tull frosty winter morning sound – the hope and light of music within a dark winter day."
David Potter, banjo player and newest member of The Indulgers had this to say: "One of my favorite parts of working with the Rocky Mountain Celts has been being surrounded by some of the best musicians in Colorado. Mike has done a fantastic job putting together some top notch, professional musicians and groups for this project that is producing, recording, and engineering some of the best music in Colorado. Everyone has their part, whether big or small. Everyone adds their own "seasoning" into the mix. All of the parts come together to create a "Celtic Orchestra" that creates a new experience and energy for the audience.
Since we have such fantastic musicians associated with this project, it definitely lifts me up and makes me a better musician as well. As the banjo player in the group, it allows me to spread my horizons and add some salt and pepper to a genre of music that was the roots of Appalachian music. Wild Gypsy Rover is my favorite song out of all the Rocky Mountain Celts songs. It is the first Rocky Mountain Celts song I was a part of. At first, there were no plans of having a banjo in it; however, once Mike and I sat down and recorded a few tracks to see what would happen, it changed the course of the song, which is especially evident on the video in the prelude and credit music."
Sean Gaughan, founder and leader of the 15 year-old Irish rock band Big Paddy said "I really enjoy the Rocky Mountain Celts since I get to record at Grapevine Studios and I finally get to meet some of the other Irish musicians in the Denver area. It's cool to see and hear all the different styles and compositions of Traditional tunes along with the writing abilities of the Celtic Community. "Christmas Lullaby" is my favorite RMC song since it is a great Holiday song and it was the first of the RMC's numbers."
The Rocky Mountain Celts have begun to rehearse for a live holiday show at Tennyson's Tap in north Denver, 4335 W. 38th Avenue on December 11th at 8 PM $5 cover charge at the door. Four of the bands comprising the Rocky Mountain Celts, Big Paddy, Celtic Friends, Delilah's Revenge and The Indulgers, along with Uilleann piper Eric Olson and Irish step dancers, will perform individually and together. This will be a dress rehearsal "debut" for upcoming larger theater shows for the Rocky Mountain Celts in 2016. One and all are invited to join the RMC on December 11th and share the holiday spirit. To see the full list of musicians and dancers and the program for the concert, please visit the Rocky Mountain Celts Facebook page at https://www.facebook.com/Rocky-Mountain-Celts-1523964337890630/