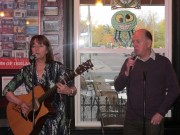 Clancy's Irish Pub proved to be the ideal venue for the recent 'teacht le chéile' (get-together) of the Denver Irish Network on November 1st 2015.
Leading the entertainment for the afternoon were Seamus Blaney's sister and her husband (Carol and Paul McAlister) whose program included singing, storytelling and recitation. Traditional songs such as 'Belfast Mill' and 'The Pretty Maid Milking Her Cow' were complemented by singing in Irish, 'Fear an Bháta', more recent songs 'Antrim Coast Road' and 'Nancy Spain' and recitation, 'The Papist and the Prod'.
The afternoon program was greatly enhanced by impromptu contributions from: Alan Groarke, Emily Dawson, Lisa Switzer, Dennis Gallagher, Mary Ryan, Brian McCarthy, Shay Dunn and Damien McCarron. These additional contributions included the recitation of Yeats' poetry and singing accompanied and unaccompanied in English and in Irish. Of particular note was the singing of Alan Groarke who 'tipped the scales towards Munster' with some rousing songs from Cork and Kerry.
The appetisers provided by the Irish Network were greatly appreciated by the large crowd that attended. At the close of the entertainment, Maura Clare thanked the entertainers and Shay Dunn who set up and managed the sound equipment for the afternoon.
Go dtí an chéad lá eile! – until the next day!
……………………………
INCO is hosting a Christmas Ceiliuradh and Potluck, on Friday, Dec. 11 at 6:30 p.m. at the Potenza Lodge in Denver. There will be fantastic craic, with music, dancing, prizes and more! $15 admission – $10 seniors – children 12 & under free. Proceeds to benefit INCO's sponsorship of Queen Colleen Kate KellyPlease RSVP here by Dec. 4 at irishnetworkco.com. Support Colorado's Irish Network by purchasing a membership NOW! Individual memberships are only $25 through December. Effective January 1 there will be a modest increase: $40 individuals, $100 corporate. irishnetworkco.com