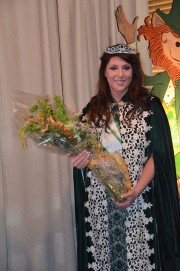 Meet 2016 Denver Queen Colleen, Kate Kelly!
By Rodger Hara
On October 25th at the Celtic Tavern, the Denver St. Patrick's Day Parade Committee crowned Kate Kelly its Queen Colleen for the 2016 Parade. Maureen McGinty, 2015 Queen Colleen, passed her crown to Kate, a Colorado native and graduate of Littleton High School and the University of Denver. Jay Leasure, President of the Parade Committee introduced his Board, welcomed the crowd gathered for the coronation ceremony and MC Mike Foley managed the event that featured entertainment by the Michael Collins Pipes and Drums, Celtic Steps and Celtic Friends.
The daughter of George and Maureen Kelly of Littleon, Kate is 25 years old and has family roots in Counties Cork and Mayo. At the University of Denver she majored in International Business, spent a year studying at University College Dublin and graduated with honors from DU. Along with several hundred others, she was invited to apply at UCD for a special graduate program and flew to Dublin for an interview. She was one of the top ten finalists but needed to finish in the top five so didn't receive the study fellowship this year and intends to apply again next year.
A member of the Irish Network Colorado Board of Directors, she was sponsored by INCO for the Queen Colleen competition. In her acceptance speech, she spoke of the honor it is to be given the crown as a literal and figurative symbol of her lifelong love of her Irish heritage, Irish culture and history. She said that she is passionate about community involvement and wants to use her role as a vehicle to bring heightened awareness of that culture, its history, music and dance to the people of Denver and especially to the members of her own Millennial generation.
She has worked at Leprino Foods for several months and will travel to Ireland with her family later this year. An equestrienne since she was ten years old, she had her own horse named Charlie for many years – and since the theme of the March 12, 2016 St. Patrick's Day Parade has the word "stampede" in it, there may be an equine surprise in the Parade – but you'll have to go down to the Parade to see what it will be.