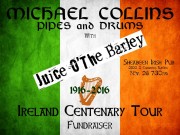 Michael Collins Pipes & Drums Fundraising to March in Ireland
By Rodger Hara
Michael Collins Pipes and Drums was founded in 1996 by a few talented musicians with a love of Irish music. With a home in the legendary Sheabeen Pub in Aurora, the members chose the name to honor the "Big Fellow" from Cork and Denver's Michael Collins Division of the Ancient Order of Hibernians. The band's objectives are to uphold the history and tradition of Irish bagpiping, play great Celtic Music, entertain the public and most importantly, to have fun while doing it.
From a humble start as a small performance pub band, it has led the St. Patrick's Day parade for the past 16 years, appeared on stage with the Jefferson Symphony Orchestra, Seven Nations, the Elders and the Chieftains and become an accomplished competition pipe band as evidenced by first place finishes at this year's Pikes Peak Celtic, Colorado Irish and Long's Peak Scottish-Irish Festivals in Quick March Medley and two firsts and a second in the Timed Medley.
The true recognition of the bands' accomplishments, however, lies in the invitation that has been extended to it by the Cuman Éire-Gaelach (the Irish Cultural Society) to march in next year's parade in Dublin in honor of the 100th Anniversary of the 1916 Proclamation (the Republic of Ireland's Declaration of Independence). The parade route on the streets of Dublin will go from St. Stephen's Green down Grafton Street to the General Post Office on O'Connell, passing many historic sites significant to the events of 1916. Among the goals of the parade are the honoring of the patriots of 1916, recognition of the centenary of the Easter Rising and showcasing the heritage of bagpipe playing in Ireland. The latter goal having a consonance with the band's reason for being creates a lovely symmetry that the band intends to acknowledge by accepting the invitation and going to Dublin next Easter.
Such a trip, however is not inexpensive and the band, a 501(c)(3) private not-for-profit organization, is seeking help from donors and sponsors for the trip to help with travel, lodging, equipment, uniforms and all the trappings necessary to properly represent Denver. Different levels of sponsorship earn different sorts of recognition and acknowledgement. For more information about how to make a tax-deductible donation you can go to the bands' website at www.michaelcollinspb.com, send a check to the Michael Collins Pipes and Drums Band, P.O. Box 16868, Denver, CO 80216, make a PayPal donation through their Facebook page or come to one of their pub fund-raising events, the next of which will be in the Sheabeen Irish Pub, 2300 S. Chambers Rd. (Iliff and Chambers) in Aurora on November 28th at 7:30 PM with special guest stars The Juice O'the Barley.