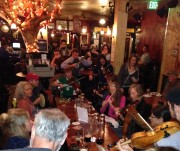 Boulder Session's New CD "Next Sunday at Conor's " Release Party Nov 15.
Just as the CDs from 2006 are about to become rare items, there's a brand new release, called "Next Sunday at Conor's". The eighteen tracks of tunes and songs represent the music of the current steady participants who meet every Sunday, 7:00 PM (Irish time). As on the preceding album, they transplanted to a studio, where pub noise (or ambiance, if you prefer,) doesn't color the quality of the playing, and you can hear all the lyrics.
The Boulder Irish Session invites you to the official release party at Conor's on November 15. All are welcome to join the celebration!
The Boulder Session is the longest continuously running session in the area, almost 30 years now. A number of bands have spun off from this incubator, and musicians' careers have been nurtured and enriched in our community. The repertoire is constantly changing and growing. Needless to say, there's a lot of fun to be had! There's usually an appreciative audience, including a number of regulars over the years, and room for you. The session is a way station, if not a destination, for traditional musicians from around the country (and beyond) who drop in when they can.
At the Session tunes outnumber the songs. It is an open session, and a great one for musicians who have some repertoire and familiarity with the genre. Also a great place for beginners to meet more advanced players, pick up tunes and inspiration. For more information, people can call the session anchor, Michael Reshetnik, at 720-350-5277.
The CD will be available at Conor O'Neill's traditional Irish Pub, 1922 13th Street Boulder, during Sunday evening sessions, beginning November 15.