Tickets On Sale Now for the Colorado Scottish Festival in
Snowmass Village
A Family-Friendly, Dog-Friendly Festival!
July 31 – August 2, 2015
By Susan M. Thornton (July 2015 Celtic Connection newspaper)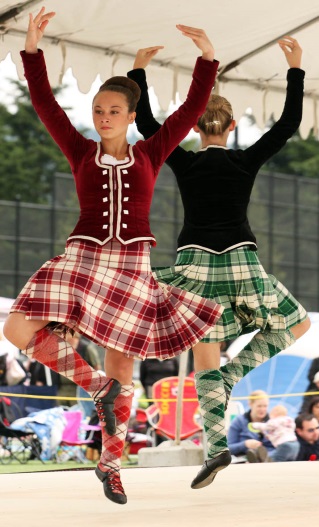 There's gonna be a great celebration when the Colorado Scottish Festival arrives at its new home in Snowmass Village this summer! Yes, in case you missed the news, the Colorado Scottish Festival is leaving the heat and parking problems of the Denver area, and moving to Snowmass Village, near Aspen. The dog-friendly Festival will be held in a cool and beautiful mountain valley reminiscent of Scotland!
The Festival kicks off Friday night, July 31, with a free Hot Piping and Hot Drumline competition judged by the audience in The Bar at Wildwood in Snowmass Village. You'll get a real kick out of seeing the hottest of the Festival's hot pipers and drummers as they strut their stuff. Another free high octane offering will take place Saturday night with a concert featuring the Irish rock group, "Swagger."
Meanwhile, all day August 1 and 2, the Great Highland Athletes will be demonstrating their skill at heavy events that include throwing the caber (telephone pole — really!), the sheaf toss, the stone put and more. The skill of these amazing athletes, both men and women, will leave you breathless. Of course there will be bagpipe bands — nine of them — including a band made up of young players from the Ute Mountain Reservation, and three bands coming from out-of-state! For the first time ever, the Festival will host a Grade 2 band competition. As there are only four Grade 2 bands in all of the Western U.S., having a Grade 2 competition in Snowmass Village will be very exciting.
Mustn't forget the colorful clans who will attend — more than 27 of them, including a number of clans from the Western Slope and outside of Colorado. They will be waiting to show off their rich histories and talk with you about your ancestry. They'll be joined by a professional genealogist. Maybe you'll find new cousins at the Festival!
Graceful Highland dancers will compete on the Colorado Ballet Stage, with Irish stepdancers and Scottish Country dancers entertaining on the Dublin Dance Stage. To top it off, there will be nonstop Scottish and Irish music on the Fingal's Music Stage. Among the musicians will be "Down the Back Lane," playing fabulous traditional Irish music, Dirk Mewes playing uilleann pipes, Don Hilsberg on the Celtic harp, Damien McCarron singing songs of Ireland, and Loretta Thompson with songs and fiddle tunes from the Celtic nations.
Dogs of the British Isles are always popular with children and adults alike, as are Classic British Cars, which will join the Festival on Saturday morning. And everyone enjoys the food vendors, vendors with Celtic merchandise, and the beer and whiskey-tastings for people of a certain age. Historic re-enactors, the Renaissance Scots, will recreate a Medieval village, with a pub tent, blacksmith, weavers and others depicting life in Olde Scotland. But watch out, because the Scots will be accompanied by their defensive arm, the Dunvegan Wolves, who will demonstrate fighting techniques with swords and axes. Don't get too close!
You won't want to miss the Midday Ceremonies both Saturday and Sunday, with the Parade of the Clans, Dogs of the British Isles and Renaissance Scots. Then stand in awe as more than 100 pipers and drummers shake the earth as they come marching across the field playing "Scotland the Brave!"
Did we mention that the Festival is kid-friendly and dog-friendly? Kids from 3-12 will love trying their hand at Scottish athletics at 12:30 both Saturday and Sunday. (Shhhh, the caber is made of Styrofoam, and the "sheaf" toss will be with a pillow thrown with a kid-sized snow shovel.) The dogs, face painter and colorful sights and sounds will keep the kids — and mom and dad — happy.
Tickets to the Festival are very affordable and include special rates for children, seniors and active-duty personnel. But in-the-know Festival-goers are buying Thistle Tickets, which include a private Friday evening reception at Snowmass Village's Ice Age Museum, Festival admission and close-in parking, a Saturday morning continental breakfast, access to the VIP Tent (with adult beverages and whiskey-tasting) on the Festival field and more.
Parking is also free in Snowmass Village, as are the Village's free shuttles, and the GoSnowmass card for people who buy tickets on line. The card offers discounts at Snowmass Village restaurants and shops.
For tickets, the best lodging rates and information, visit www.ScottishGames.org. Snowmass has several thousand hotel rooms and condominiums, but they are filling fast, so don't wait to book your lodging for this fun weekend!