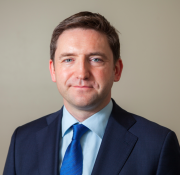 IRISH NETWORK COLORADO TO HOST VISIT FROM NEW IRISH CONSUL GENERAL
Irish Network Colorado (INCO) and the Celtic Connection are hosting a meet and greet reception in honor of our new Irish consul general on Wednesday, May 20 from 6 to 8 p.m. at Katie Mullen's Irish Restaurant at 1550 Court Place in Denver.
Consul General Adrian Farrell was appointed to the Consulate General of Ireland, Austin, Texas in September 2014. He is eager to meet the Irish-American community and those with an interest in Ireland and will make brief remarks at the event.
So please come out to join us in extending Colorado's Céad Míle Fáilte to CG Farrell! A reservation is required via irishnetworkco.com
Appetizers provided, cash bar
$5 INCO Members, $15 Nonmembers, $5 Students
***
INCO NIGHT OUT WITH MARTIN HAYES & DENNIS CAHILL
May 15th, 6:30pm, Soiled Dove
Irish Network-Colorado is in cahoots with Celtic Events to offer an evening out with critically acclaimed fiddler Martin Hayes and master guitarist Dennis Cahill at the Soiled Dove!
You may purchase tickets for the concert at www.soileddove.com or by calling 303.226.1555.
The show starts at 8 p.m. (doors open 7 p.m.) downstairs at the Soiled Dove. When you purchase tickets, you'll be assigned specific seats, so there's no need to queue early at the venue.
ADDITIONALLY, if you'd like to come ahead of time to have dinner together with Irish Network friends at the restaurant upstairs, please RSVP HERE BY MAY 8 FOR DINNER RESERVATIONS AT 6:30 ON THE 15th. We'll hold a spot for you in our group. Separate checks, of course.
Please feel free to come to either the concert or dinner if you can't make both.
***********************************************************
Irish Network Colorado is an organization that provides opportunities for Irish Americans, expats and friends of Ireland in the Front Range to network, thereby enhancing social, business and cultural connections within our community and between Ireland and Colorado.