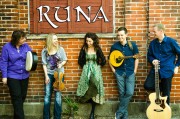 RUNA – An evening of Irish music, song, & dance!
Friday March 6, 8PM (7PM doors) at the Soiled Dove in Denver &
Saturday March 7 (7:30PM, 6:30Doors) at Stargazers Theatre in Colorado Springs
Both Shows All Ages Shows
Tickets Links/Numbers:
Friday March 6th Soiled Dove Denver call 303-830-9214 or online at https://www.ticketfly.com/purchase/event/774549?utm_medium=bks
……………………………….
Saturday March 7th Stargazerstheatre Colorado Springs call 719-476-2200or online at
http://www.stargazerstheatre.com/stargazers-theatre-event-center/runa-evening-irish-music-song-and-dance
RUNA Returns to Colorado…
A lot of good things have happened to RUNA since they first performed in Colorado about 4 years ago. At the time they probably were relatively unknown west of the Mississippi, but now they are recognized on an international level, even making the cover of Irish Music Magazine (Dublin). RUNA won Top Group (US, IRE, EU, UK) and Top Traditional Group, and a nomination for Best Female Vocalist (2013, 2012) in the Irish Music Awards for 2013, and won both the fan ballot and judges' votes for Best Song in the World Traditional Category for "Amhrán Mhuighinse" (Somewhere Along the Road) in the 12th Annual Independent Music Awards. The band won several awards at the 2010 Montgomery Buck Music Awards, including Best Entertaining Band, Best Folk Artist, Best Female Vocalist, and Best Album – "Jealousy".
RUNA just released their fourth album, "Current Affairs" – hailed by The Celtic Crier as "an incredible masterpiece" and by Hearth Music as "Music inspired by tradition, but unafraid of a bright new future!". The album is nominated for Best Irish CD of 2014!
No doubt the addition of Dave Curley and Maggie Estes would be a plus for any band. Curley was in Denver a couple of years ago performing with SLIDE. The Galway native impressed all with sensational multi-instrumentalist (playing guitar, banjo, mandolin, and bodhrán, among other instruments), as well as a singer, and dancer with his velvet vocals and quick feet. Maggie, a champion fiddle and mandolin player from Hopkinsville, KY., is emerging as one of the most talented young fiddle players in her new home – Nashville, TN. With bluegrass and classical training, Maggie brings a truly unique flavour to the RUNA sound. She has toured extensively with the Peter Mayer Group and with Keith & Kristyn Getty. Dublin born Fionán de Barra (brother Éamonn also played with Curley in SLIDE) is still providing monster guitar work for the band, along with Cheryl Prashker of Canada on percussion, and of lead vocalist and step-dancer, Shannon Lambert-Ryan.