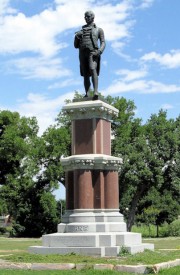 Scotland's favorite son, "The Bard" Robert (also Robbie, Rabbie) Burns is celebrated worldwide on his birthday January 25th. Born in 1759, he is regarded as Scotland's national poet and is best known for his poem (and song) "Auld Lang Syne" often sung (or attempted to) on New Year's Eve (called Hogmanay in Scotland), and "Scots Wha Hae" served for a long time as an unofficial national anthem of the country (okay lets' not mention the recent election…Oops, sorry). Other poems and songs of Burns that remain well known across the world today include "A Red, Red Rose," "The Battle of Sherramuir," "Tam o' Shanter," and "Ae Fond Kiss" and a boatload of others. Burns was also a collector of Scottish folk songs. He wrote in Scots gaelic and English (especially when he was pissed at the English).
In Denver's City Park just southwest of the pavilion, stands a lonely statue of Burns. Well, standing 27 x 8 x 6 ft.( the figure of Burns is approx. 10ft. tall) maybe not so lonely, but it looked so forgotten. Maybe because I didn't know it was there and just stumbled on it. It's been in the Denver park over 100 years. According to artsandvenuesdenver.com and www.waymarking.com it was erected in 1909, but several sources, including 8 at www.denverlibrary.org give the date as (July 4) 1904. Since I found a postcard of the statue dated October 1907, my money would be on the 1904 date.
The bronze statue stands on a base of granite with an inscription on the bottom that reads:
"A Poet Peasant Born Who More Of Fame's Immortal Power Unto His Country Brings Than All Her Kings." According to a number of resources, the sculptor of Robbie's likeness was William Grant (1849-1919) Stevenson of Edbrooke, Scotland. The statue was given to the city by the Scots Caledonian Club of Colorado, which was a Denver, Colo. fraternal and benevolent organization of Scotchmen and descendants of natives of Scotland residing in Colorado organized in 1880.
Minute books of club meetings with a few letters, receipts, etc. inserted from 1895 to 1909 are on microfilm at the Western History/Genealogy Dept., (5th floor) of the main Denver Public Library. Colo.
The man most responsible for the Burns statue residing in Denver City Park was John Duff McGilvray, born 1847 in Inverarity, Scotland. McGilvray and his family eventually made their way to Denver (via a Chicago stop and 5 babies later). According to an old Denver Post account, John Duff became a stone contractor in Denver and his company built the Denver City Hall, the upper story of the Denver Court House, the old Post office, the Windsor Hotel, the Barth block, St. Leo's church and North High school and "other big office structures." In 1893, John D. built a castle-like home at 10th Avenue and Corona Street. In 1880, John D. was elected alderman from the 11th ward. He also served on the Board of Supervisors and through his efforts helped in the purchase of City Park. He was a member of the Caledonian society and was "largely responsible for the erection of the Robert Burns statue in City Park."
Maybe this January 25th the lonely looking statue will get a little more attention. How about a flash crowd event with kilts and bagpipes – Colorado St. Andrews Society
Editors note: Thanks to many efforts of folks who posted about the Denver Burns statue including waymarking.com, Denver Library, ChicagoScots, Denver post, Wikipedia, etc.).
Pat McCullough Celtic Connection January 2015