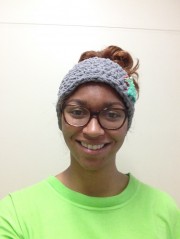 (photo: Irish Studies student Ariana Walsh)
Aithne ar ár Mic Léinn – Introducing our Students
Ariana Walsh [Elementary Irish I]
I joined the Friends of Irish Studies and am taking Irish language classes because I have always been fascinated with Ireland. This program has taught me more about the language, community, and Ireland in such an intriguing way that is fun and full of surprises. My favorite thing about learning Irish is when people ask me what language I am taking or hear me speak it, they are caught off guard because I'm not Irish and I don't look Irish. Taking Irish as a language and becoming a Friends of Irish Studies, I have fallen in love with the program and have made it my minor as well as teaching Irish to my children.
……………………….
Turas go hÉirinn – Trip to Ireland
Our trip to Ireland has been finalized. A detailed itinerary is now available on our website, www.friendsofirishstudies.com. The tour will bring you to some of the more well-known places, but also into the Hidden Ireland, to those places of indescribable beauty that lay off the beaten track. If you have any further questions, please contact [email protected]
……………………..
Bronntanais na Nollag – Christmas Gifts
Lón Stócaí – Stocking Stuffers
How many of you dread the thought of Christmas shopping, pausing and looking and going from store to store to find those little gifts for friends and work colleagues. Well, here is a helpful suggestion: Why not enter them in a drawing for a trip for two to Ireland? Believe it or not, those raffle tickets make great stocking stuffers and tokens of appreciation for friends and work colleagues. If you're interested, you may purchase them at Rockin' Rudy's in Missoula, The Granite Mountain Bank in Butte, and at Bert and Ernie's in Helena. You can also contact the Friends at [email protected] and they'll post them on to you. Nollaig Shona – Happy Christmas
Ballraíocht de na Cairde – Membership of the Friends
Here's one other thought to ponder: Have you considered buying a membership to the Friends of Irish Studies as a Christmas gift? Not only do you get a beautiful bumper sticker and pin, but you also get reductions on all activities this great group organize and a monthly newsletter. Added to that is the fact that you help to promote your Irish heritage and culture. So, it is a gift well worth considering; and it's only $20 for an individual membership and $40 for a family!
…………………………………..
Matters of Culture – Cúrsaí Cultúrtha
Cé hiad na Gaeil Mheiriceánaigh? – Who are The Irish Americans?
Have any of you ever paused to ask the question: Who are the Irish Americans, what does this term mean? It seems that those early Irish immigrants who first used the term to describe themselves had no doubt what it meant. It was a double-barreled name proclaiming that they were Irish in their culture and American in their politics. In other words, they would preserve their Irish heritage and identity while remaining faithful to the American ideal of Liberty and in doing so would create a cultural and nationalist movement that would change the course of Irish history. You may not know this but the great cultural revival that swept through Ireland from the 1890s onwards had its origins in America. The first organizations to preserve the Irish language, music, dance and games were started on this side of the Atlantic; it was the Irish Americans who rejected Home Rule and demanded liberty; and it was the growing political power of Irish America that internationalized the Irish Question and forced the British Government to change its policies towards Ireland. It was the Irish American vision of a new Ireland that Padraig Pearse embraced and sought to implement through the 1916 Rebellion. It was a vision he referred to as the Fenian Programme, a clear acknowledgement of its Irish American origins.
But what does Irish American mean to the descendants of those early immigrants; what does it mean to you, if anything? This is a question that concerns the Irish Studies Program at the University of Montana through its oral history research project, The Gathering. This is a question we cannot answer, but you can, so we invite you to send in your thoughts on this question to [email protected]
Traidisiúin na nGael – Irish Traditions
Bill Shea from Anaconda informs us that as kids they would go from house to house at Halloween saying "Mum, Mum…" instead of the typical "Trick or Treat." Bill believes that this custom has its origins in the Mumming tradition of Ireland. We also received another account telling us that St. Stephens Day in Butte was celebrated in a manner very similar to the Wren Day in Ireland. The kids would dress up and go from house to house singing, "The wren, the wren, the King of All Birds, On St. Stephens's Day got caught in the furze. Although he is small, his family is great. Come out, good lady, and give us a treat." The Gathering is recording these traditions and the manner in which they were celebrated in America. If you know of any customs or traditions you believe may have come over with your people from Ireland, please contact [email protected]
……………………………..
Síntiúis – Donations
It's approaching the end of the year and many of you are considering some end-of-year donations to your favourite charities and organizations. We respectfully ask that you consider the Friends when making your decision. The Friends of Irish Studies is a 501c3 non-profit corporation, so your donation is tax deductible. It will be a great help in building our program and helping the less-well-off of our students. Our thanks to you in advance for taking the time to consider us. Go gcúití Dia bhur saothar libh
…………………………….
Club Iománaíochta – Hurling Club
The Montana Grizzlies' Hurling Club travelled to San Francisco on November 8 to compete in a local tournament comprising collegiate and club teams. It was again a very successful trip. The national champions easily disposed of the collegiate teams and seem to be progressing in a way that makes them favourites to retain their title in May. The club team presented a more formidable opposition, made up as it was of players from Ireland, each of whom had been born with a hurley in the hand. "Although the Grizzlies were well beaten, the game will do them a lot of good," according to player/coach, Naoise Waldron, "there is now another standard to reach and we feel confident that our young hurlers will reach it." If anybody is interested in playing or learning about the game, please contact [email protected]
……………………………
Ceol agus Rince – Music and Dance
Nollaig na nGael i Montana – An Irish Christmas in Montana
The Christmas Concert is coming up, so be sure to tell all our family, friends, in-laws and outlaws. This is a very historic and special event as it brings together performers from Ireland and America. As the record shows, when the Irish of both countries come together great things happen. The setting is an Irish cottage and the program features all the songs, hymns, ballads and dances one associates with an Irish Christmas. Rehearsals have been ongoing for the past three months, and reliable sources tell me that it is so good they may be taking the show to Broadway after Missoula! So, tell everybody you know, e-mail your contacts, and post on social media. The concert takes place at the University of Montana Music Recital Hall, with an evening show on Saturday, December 6 from 7:30 – 9:00, and a matinee on Sunday, December 7:00 from 3 pm to 4:30. Tickets are $20 for a family [whether you have 2 kids or 20]; $15 general admission; $10 for seniors and Friends of Irish Studies; and $5 for students. All proceeds go to support the Irish Studies Program. For more information or tickets online, go to www.friendsofirishstudies.com. You can also buy tickets at the door. Our thanks to our sponsors: The Ancient Order of Hibernians [AOH]; Lmgsecurity; and Ireland Tile and Marble.
Rinceoirí na Sléibhte – Missoula Irish Dancers
Missoula Irish Dancers will hold their 5th annual Christmas Recital and silent auction on December 20 at Hellgate Highschool. The performance begins at 2:30 and will be another great event. The Missoula Irish Dance School has grown dramatically over the past number of years and needs your support to meet the growing demands on resources. So, put it on our calendar and spread the word. More information may be obtained at www.missoulairishdancers.com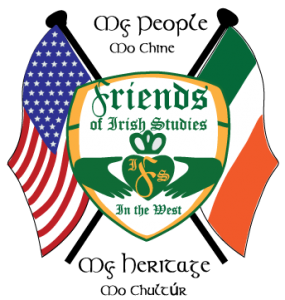 .