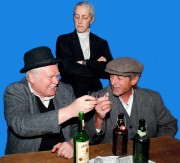 (photo caption: Louis Clark as Captain Boyle, Kathy Reed as Mrs. Boyle, and Robert Mitchell as Joxer
in The Upstart Crow's production of "Juno and the Paycock' by Sean O'Casey. Photo by Sutherland Studios)
The Upstart Crow theatre company's current production of Sean O'Casey's "Juno and the Paycock" runs Thanksgiving week through December 6 at the Carsen Theatre at the Dairy Center 2590 Walnut, Boulder CO.
Juno and the Paycock is a play by Sean O'Casey, and one of the most highly regarded and often performed plays in Ireland. It was first staged at the Abbey Theatre in Dublin in 1924. It is set in the working class tenements of Dublin in the early 1920s, during the Irish Civil War period.
It is the second of his well-known "Dublin Trilogy" – the other two being The Shadow of a Gunman (1923) and The Plough and the Stars (1926).
COME EARLY! Dan McNellan will be performing traditional Irish folk songs and ballads for each performance starting 20 minutes before curtain.
For tickets go to our website: theupstartcrow.org, click on "Buy Tickets" in the bottom of the box in the upper left corner. Or call the Dairy box office at 303-444-7328. If you'd like more information call us at 303-442-1415. http://theupstartcrow.org/