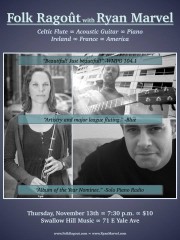 Folk Ragout with Ryan Marvel perform and all ages show at Swallow Hill, Thursday, November 13 at 8:00pm. Expect an evening of collaborative music…celtic flute, amazing guitar and piano with traditional Irish, Scottish, American, French and perhaps seasonal influences. Leslie Anne Harrison, flute. Frederic Pouille, guitar, Ryan Marvel, piano. 303-777- 1003 Tickets: http://swallowhillmusic.org/denver-concerts/folk-ragout-feat-ryan-marvel/nov-13-2014-8-00-pm/ All Ages
Folk Ragoût is an exciting and original duo, comprised of American flutist Leslie Anne Harrison and French singer and guitarist Frédéric Pouille. With their great love for the traditional Celtic music of France and French Canada, Folk Ragoût's performances are unique, beautiful, and virtuosic. Leslie Anne Harrison, a local of Denver, has performed around the world with such artists as the Metro Chamber Orchestra, the Combo Nuevo Orchestra, members of the Silk Road Project, and New York City's Public Theater. She is a featured artist on multiple albums and has made guest appearances on numerous recording projects, one of which was nominated for a Drama Desk Award in 2009. Harrison is on the music faculty at Swallow Hill Music and she routinely performs and teaches throughout Colorado, Wyoming, and Utah.
Born in Paris, Frédéric Pouille is a specialist of modern finger-picking guitar and DADGAD, and his innovative accompaniments draw from jazz, folk, traditional, and world music. He is an expert in Irish and Breton music and he has given workshops and performed across Europe and America. He has also collaborated on many recording projects and is currently producing his own solo guitar album. In addition to being a musician, Pouille holds a PhD in Neuroscience and has been involved in academic research around the world. His publications can be found in Science and Nature.
A native of Colorado, pianist Ryan Marvel studied with the late Patricia Weaver. He has released three solo and collaborative albums, the second of which was nominated for Album of the Year by SoloPiano.com and Whisperings Piano Radio. A talented composer and arranger, Marvel works with choirs, songwriters, and instrumentalists. He has performed across Colorado, California, and Arizona, and has been a featured soloist with the Front Range Chamber Players. He is currently Director of Music and Choirs at Foothills Unitarian Church in Fort Collins, Colorado.