By Luke Henderson – - –
It's been a tremendous year of change for Cody 'Donnybrook' Donovan. He was married, won the Colorado Celtic Club award for best Irish-American fighter, fought for the UFC in Ireland, coached, trained and worked within his community and church. Now, with Donovan's recent announcement of his retirement from the sport, people may think it's time for a well earned rest. But that's not 'Donnybrook'. Almost right after the news of his retirement came the announcement that he would soon be gathering funds to head to Uganda on a mission trip.
"I am a man of God and believe he has always had a plan for me and he is telling me to go Uganda to help the people there," Donovan said. For fans that worry Donovan may be leaving Colorado behind rest assured nothing could be further from the truth. With all the planning for his mission trip he also has to find time to prepare for a key role in the 2015 St. Patrick's Day Parade in Downtown Denver. "I have always had a huge following in Colorado, especially with the Irish Americans. The Celtic Connection and the Irish pubs in town have supported me from day one. I'd like to thank the community for all the support. We will have [at the parade] a Donnybrook 'float' and will be giving away swag," Donovan said.
While he's firmly looking forward Donovan still has time to look back. "Retirement is bitter sweet. It's always hard to walk away from something you love so much but the time finally came where my body could no longer handle it. I will be heading into surgery soon. My focus now is on getting healthy, being a good husband, and teaching/mentoring students at the gym. I will still help teammates like Brendan [Schaub] and Nate [Marquardt] train for their fights and hope to compete in some BJJ tournaments in the future," Donovan said.
No one can overestimate the importance Donovan has had on the Irish-American fighting community in Colorado and his impact on the sport of MMA in the Denver-Metro area. His dedication to MMA, his fans, family, teammates and community at large has been priceless. With the door on his professional fighting career closing though fans should take solace in the memories he provided them and celebrate the bright future ahead.
"I have other gifts to bring to the table and share with the rest of the world in this new chapter in my life," Donovan said.
To donate to Cody Donovan's mission trip, please visit this website. https://www.servicereef.com/organizations/flatirons-community-church-2/donate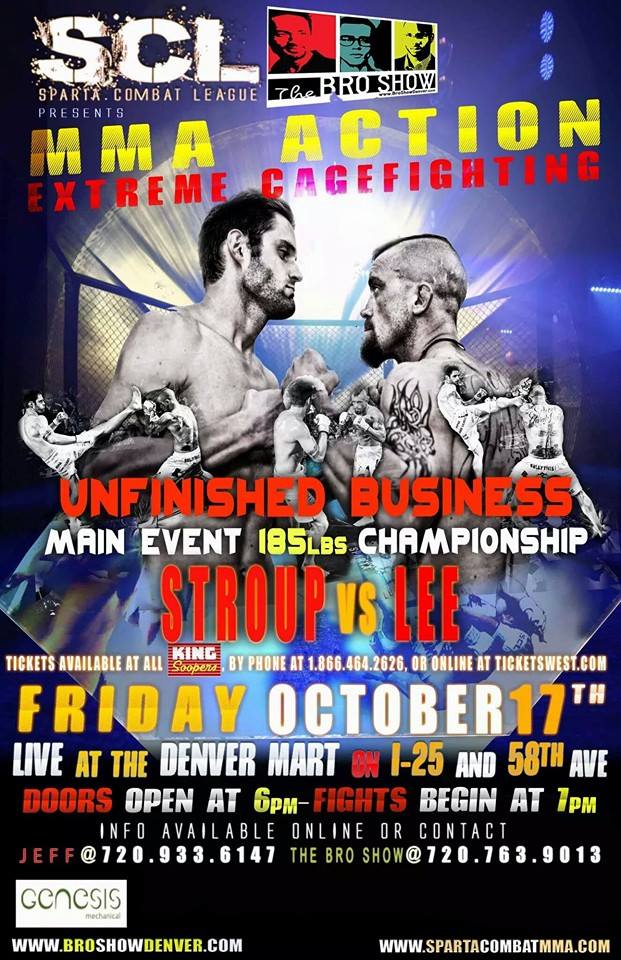 click on the Men's conference team to Uganda link.
………………………………………………………………………………………….
Other Colorado MMA News:
The 2013 Female Fighter of the Year JJ Aldrich won her professional debut fight at Invicta FC 8 against Delaney Owen on September 6.
Rumors abound that the all-female promotion may be bringing a fight card to Denver in the near future. If so our readers may clamor to see Aldrich on the card as well as recently signed Maureen Riordon. For information go to: www.InvictaFC.com.
Jason 'The Dragon' Lee will be returning to the cage October 17 for his much anticipated rematch with Adam Stroup. Their first fight earlier this year ended in controversy when Stroup was awarded the victory after a number of illegal knees to the crotch were not noticed by the referee. A war of words broke out afterwards but grudges have been put aside to create what may be the most anticipated match of 2014.
For information go to: www.SpartaCombatMMA.com.