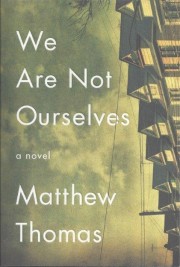 The year is 1951, and young Eileen Tumulty and her father Michael are in Doherty's Bar in Queens, New York, after her step-dancing class. Eileen finished her homework while her father "held court." Big Mike Tumulty, born in Ireland, had connections, helped men find work, and served as father-confessor to those just off the boat. One of 12 children, he believed that "Everyone should have a second job." His second job was bartending; by day he hauled barrels for Schaefer Beer. Eileen's Irish mother, one of 13 children, was a cleaning lady, and the Tumultys housed a boarder in their small apartment. Big Mike often became a violent drunk on paydays, but he did teach his daughter some drinking lessons: never "drink anything you can't see through," and "never pick up a drink again after putting it down and taking your eye off it." Eileen learned from friends about "mothers who never stopped smiling and the fathers who folded the newspaper down to talk to their children." She often wished to be invisible. (Matthew Thomas knows his novel's territory well.)
Eileen cooked, cleaned and started work at the Laundromat at age 13 – a big help when her alcoholic mother entered a drying-out hospital. After high school, Eileen became a nurse, and her second job was modeling at Bonwit Teller. She married Ed Leary, a community college teacher from a similar background. Ed's father also drank up whole paychecks, and so far, theirs is a common story shared by millions. The terrifyingly random nature of life is on full display.
Eileen and Ed worked hard, saved money and never went out. Ed passed up promotions to have more time for research and students. Their son Connell was born in 1977, and Eileen was promoted to hospital administrator. When her parents died, she learned that her father's gambling had taken everything; she and Ed paid the funeral expenses. Ed insisted on staying in their shabby apartment, and in 1986 Eileen "didn't like to acknowledge that people with real ability might not arrive at comfortable stations in life." They were both dealing with stressful workloads and interacting with hundreds of people daily. As they were nearing age 50 in 1991, Ed grew distant and came unglued on the job. Their investments lost money, Eileen had to take a pay cut, their neighborhood deteriorated, and their house was robbed. Connell was beaten by a gang on his way home from school, and they decide to move.
They purchase a rundown house in a nicer area. When Ed is diagnosed with early-onset Alzheimer's Disease at age 51, they tell no one, not even Connell, because Ed must work another 18 months to secure his 30-year pension. Eileen must work 10 more years for her pension. She takes over Ed's grading, and he begins clinical trial drugs. They worry about Connell, noting the fact that they "had worked to give him an easier life than they'd had," although "she wondered if she'd erred in not making him tougher." Ed will eventually need full-time care, and their retirement savings will quickly evaporate. Readers see that Eileen's early coping skills with problem parents strengthen her resolve to carry on with dignity and grace.
Tender, agonizing vignettes unfold as Ed deteriorates. Eileen borrows on the house and takes out college loans for Connell, who begins distancing as his father's public tantrums increase and household disasters accelerate. Friends fall away. The day nurses continually turn over. House repairs are abandoned. The oppressive tedium of daily crisis management, delivered with lyric poignancy, is simply heartbreaking. How long can Eileen fight against countless unforeseen calamities?
Yet all the while, she is fortified with a philosophy formed early in life amid hard, sorrowful circumstances: "The point wasn't always to do what you want. The point was to do what you did and to do it well." Matthew Thomas launches the virtues of self-reliance, prudence, patience, perseverance, fidelity, frugality, courage – and that most ancient human attribute – loyalty – throughout a novel that simply cannot be missed!
WE ARE NOT OURSELVES by Matthew Thomas (Simon and Schuster, 2014, 620 pages, hardback, $28.00)