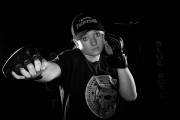 By Luke Henderson
by Luke Henderson – - – (photo: JJ Aldrich won straw-weight Title May 31 at Conflict 18 in South Carolina)
Colorado fighters tasted more success than failure this month while news about future fights excited the community.
First, Maureen Riordon of FuseBoxe made her successful professional debut at the 1st Bank Center on the Glory Kickboxing 16 card by KO in the third round on May 3. Up next, 'Babyface' will be returning to the 1st Bank Center for the next RFA event on July 25 in a professional MMA fight.
Up next, Jason Clayton lost in a controversial fight at PFC6 on May 16 in North Dakota by TKO/referee stoppage in the second round. 'The Juggernaut's' team is contesting the results due to their contention that a number of illegal blows led to the fight's conclusion. As of writing this there has been no word from the commission on overturning the results.
Finally, amateur fighter of the year JJ Aldrich of 303 Training Center/Grudge found success in South Carolina at Conflict 18, winning the straw-weight title by unanimous decision on May 31.
In other news, Sparta Combat League has announced that fan favorite Jason 'The Dragon' Lee will be facing The Ultimate Fighter contestant Adam Stroup on July 18 at their Heat event at the Douglas County Fairgrounds.
Also, the current Colorado Celtic Club winner, Cody Donovan, announced that he will be fighting on the UFC Fight Night card on July 19 in Dublin, Ireland against Nikita Krylov.