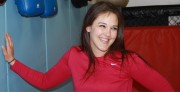 By Luke Henderson – - -

The lows of 2013 have quickly been replaced by highs in 2014 for fighter Maureen 'Baby Face' Riordon. After injuries kept her on the shelf and fights fell through, prospects for her career reaching the heights she hoped for were dimming.
"Literally the same week I had surgery, they announced there were tryouts for women in my weight-class for The Ultimate Fighter and I locked myself in my room and cried," Riordon said, talking about the Ultimate Fighting Championship's (UFC) reality program that ends with fighters receiving contracts.
But setbacks like that are in the past and Riordon made her own headlines in March with the announcement that she had not only signed a contract with national MMA organization Resurrection Fighting Alliance (RFA) but had also signed one to make her professional fighting debut in a kickboxing match for the internationally known 'Glory' promotion, which is set to make its Denver debut at the 1st Bank Center on May 3 with GLORY 16.
Riordon sees the opportunities before her and intends to grasp them tightly.
"It's a great chance not just for me, but for the community. Women's MMA is a growing sport and the last year has been incredible. Things like this, things like fighting for RFA and for GLORY, all of that is an opportunity for me to show what I can do, but also for all of us to bring attention to Denver and Colorado and bring in organizations like this," Riordon said.
While RFA is well known in the state, fans may be unclear just how large the news is regarding GLORY coming to town. The '16' show will be broadcast on SPIKE TV and will be their immediate follow-up to a show in Istanbul. Billed as the world's premier kickboxing league, the organization's decision to come to Denver brings in a great deal of attention, revenue and pride to the state.
All of this Riordon is well aware and eager to justify through her performance, but she gets downright giddy when talking about the venue.
"Of course fighting at the 1st Bank Center is a dream come true. I can't even put into words what fighting there, in my pro debut, means. There are no words to be able to be there with my family, friends and fans, to see me on that stage. No words. I would have to draw a picture," Riordon said with a laugh.
But as she prepares for this next step in her career, Riordon is not losing sight of where she has come from. m"Adopted at birth, I take pride in the Irish heritage gifted to me by my family. That last name became my entire identity, my heritage. I hope the Irish community will embrace me, as I have so profoundly embraced them. Faugh A Ballagh!" Riordon shouted. 'Clear the way!'
Riordon intends to make 2014 the best year of her fighting career and with the opportunities laid before her the sky seems to be the limit.
To purchase tickets for GLORY 16, May 3 at The 1st Bank Center in Broomfield, go to www.altitudetickets.com.