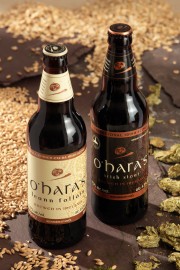 Craft beer connoisseur Seamus O'Hara and his brother Eamonn founded Carlow Brewing Company in 1996, in County Carlow, Ireland. Determined to revive the long lost art of Irish craft beer brewing, the O'Hara brothers made a promise to produce a range of premium, full flavored beers using only the finest pure natural ingredients in the traditional way – and they have delivered! O'Hara's award winning beers are now recognized as the number one craft beer in Ireland and are earning accolades internationally.
Coloradoans will be able to enjoy the genuine Irish beer, brewed in Ireland, and have a pint of O'Hara's with brewmaster and founder Seamus O'Hara when he visits Colorado in March. Seamus will be happy to meet you Friday March 14 between 6-8PM at Brendan's Pub, 404 Broadway, Denver and share the O'Hara's craft beer experience.
Seamus recently took time to chat with The Celtic Connection in advance of his trip to the States and gave some insights into the business of beer.
Attracted to home brewing in his late teens, Seamus honed in on his passion when he went to college and studied bio tech and brewing.
After college he took a job in Manchester, England and was struck by the abundance of craft beer available to consumers. "I came from a country that had the same two or three beers in every pub, and nothing much else out there. While in England, I was introduced to local breweries, regional and imported craft beers. When I moved back to Ireland a couple of years later I got a shock to my system to find the same two or three beers. It was then that I started to look around at the whole idea of opening a brewery and introducing a new beer in Ireland."
Seamus's research tuned him into the rich past of craft brewing in Ireland. He learned that the country's beer industry was not always dominated by a small number of big macro breweries. In fact, at the beginning of the nineteenth century there were over 200 microbreweries in Ireland, more than 50 in Dublin alone. "The area I come from has a lot of history tied into the brewing industry, particularly in the producing of hops and malts," said Seamus referring to the
historical malt-growing "Barrow Valley" region in southeast Ireland. "In our local town of Bagenalstown, a water powered brewery functioned until the late 1700's before being turned into a malting facility, and up the road in Carlow town there were no fewer than 8 breweries."
A trip to the U.S. in the 1990's and seeing people get together and brew their own beers commercially was the final impetus needed for the O'Hara brothers to take their microbrewery dream to fruition. "That was the final bit of inspiration for me and my brother to get together and get our own company in 1996, and then in 1998 when we brought our beer onto the market."
Initially, the big challenge was not only that the market was over dominated by the big macro companies, but 'over regulation' kept the smaller micro craft beers out of the on premise (Pubs) markets. As frustrating as the big beer business blockade was to the O'Hara brothers, they saw a silver lining; it nudged the O'Hara's to export their beers. "That's why we became an export business in an early stage of our business, as well as selling our beers domestically at off premise stores," explained Seamus who added, "The U.S. is the biggest export market along with Italy, France and Croatia." Currently there are four O'Hara's beers available in the States – Irish Stout, Irish Red, Irish Pale Ale, and 'Lean Folláin' (wholesome stout in Gaelic), a full-bodied extra Irish stout. This year there are plans for more O'Hara products to be introduced to the U.S. market.
Things have been changing in Ireland's beer business according to O'Hara and the microbreweries have been making inroads. "The last 3 to 4 years, craft beers have really taken off in Ireland, so if you travel over here now and go into most pubs in Dublin you can see a diversity of local craft and import beer, so we're no longer stuck in the time warp with just Guinness, Smithwick's, and Harp."
O'Hara said that the big macro breweries in Ireland have been declining in sales over the last 10 years, where on the micro side, craft beers have been booming,
rising at a rate of about 50% a year recently."
Changes in Ireland's social norms have affected the beer business. "When we started about 75% of the beer consumed in Ireland was on premise, now it is 50 -50." O'Hara went on to attribute this change in social behavior to a number of things including the decline in the Irish economy after the big boom in the 1990's,
the 2004 smoking ban in public places, and the clamp down on drink driving that has especially hurt the rural areas. "Drinking and driving is no longer socially acceptable in Ireland. This has had a big impact on the country pubs which requires people to people have to drive. The city center pubs are still full but the country pubs are suffering."
None of these changes in the beer business and consumer habits in Ireland have adversely affected O'Hara's. Their independent, family owned brewery expanded 4 years ago and they are in the process of expanding again. O'Hara's have played a big role in the revival of Ireland's microbreweries and continue to move forward with the highly successful craft beer evolution.
If you're planning a trip to Ireland, stop by O'Hara Brewing Corner that opened this past year in Kilkenny. The craft beer bar showcases all of O'Hara's stouts and ales, wheat beers, lagers, and specialty beers, as well as the best of local and international craft beers.
Meanwhile mark your calendar for March 14 and plan to have a laugh and a pint with Seamus O'Hara at Brendan's Pub in Denver.
O'Hara's is distributed in the U.S. through Paulaner HPUSA. If you have questions about the products contact the Mountain Region Manager, Tom McGuire at 303-799-6644.