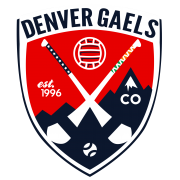 (Denver Gaels introduce new logos)
by Sam Westmoreland — It's been a busy month for the Denver Gaels, and things aren't looking to slow down in December. November was headlined by the club's Annual General Meeting, which featured plenty of changes for the club. First among them, the Gaels welcomed a brand new board.
Club chairman Tom Walsh will return for a second term, while Brian McCarthy takes over for Eamonn Ryan as vice chairman. Dermot Lynch replaces Nick Glassman as secretary, while Brian Arnold returns as treasurer. Here's the full list of board members for the coming year:
Chair: Tom Walsh
Vice Chair: Brian McCarthy
Secretary: Dermot Lynch
Treasurer: Brian Arnold
PRO: Sam Westmoreland
Registrar: Nick Glasmann
General Committee Members:
Kyle Shane
Eamonn Ryan
Greg Phelan
Sarah Rhett
Dave Caughey
Kieran McCarthy
Katie Buckler
However, board members weren't the only news from the meeting; the club is also pleased to unveil a new logo, which will be featured across the club's website, Facebook page, Twitter feed, and all major club releases. The slick new design comes courtesy of member Adam Kiefert.
Finally, the club is prepping for a busy December. Indoor league rolls on through the month, and the club is prepping to celebrate Christmas. The annual Christmas party is scheduled for December 14th at the Celtic Tavern downtown. The party will provide good craic for the Irish community, and a chance to come together and celebrate the holiday season together. www.DenverGaels.com