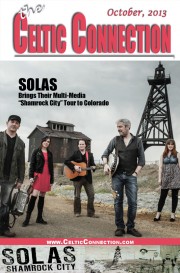 FRIDAY OCTOBER 25, 8:00PM Show
7:00PM Doors (Wear circa 1800's/Rocky Mountain costume – prizes for best costume)
Historic Rialto Theater, 228 E. 4th Street, Loveland , CO
$22 Group (10), $25 Advance, $29 Door All Ages Show / All Seats Reserved
Tickets available online rialtoloveland.ticketforce.com or call 970-962-2120 or reserve in person at the Rialto Theater Box office, or Medeiros Music, 129 E. 5th St., Loveland.
One of the all-time best Irish bands in the world will perform their high octane tunes and songs at the Historic Rialto Theater in Loveland October 25th – with a Rocky Mountain twist!
SOLAS, "Irish America's most influential band" (NPR's The Thistle and Shamrock), present Shamrock City: a multi-media show of original music, and featuring remarkable photos and stories from turn-of-the-century copper boomtown Butte, MT. Inspired by a family story of immigration, mining and murder, SOLAS and bandleader Seamus Egan will take you on the unforgettable journey of his great-great uncle Michael Conway's life in Ireland and mysterious death in America.
The band's recent album, Shamrock City, is in the same vein of high level of musicianship associated with SOLAS, but their newfound connection to the Rocky Mountain west has struck a mother lode of new passion in the band's music.
Wear your circa 1800's Rocky Mountain themed costume to the newly renovated Historical Loveland Theater on October 25th (the Friday before Halloween!) and be a part of the party – you just know it's going to be a great night of entertainment!
What the Press is saying about Shamrock City:
"SOLAS populates their newly-minted, wily western landscape with gamblers, drinkers and women…a richly-textured musical backdrop that could be a first- cousin-once-removed of Springsteen's The Seeger Sessions." – Siobhan Long, The Irish Times
"[Shamrock City is] a deeply thoughtful, imaginative collection of songs which grapple with the wealth of ideas and emotions inherent in the immigrant journey…" – Kim Ruehl, Folk Alley
"Shamrock City mixes rough-hewn Celtic melodies with voices sweet enough to savor the pain." – Jim Farber, New York Daily News
"Wonderful" – Gwen Orel, Speakeasy (Wall Street Journal culture blog)
"…this could be a landmark recording, and in some aspects it might very well be the best one they have ever done, which is saying something given the "supernova" status of their early years…" Paul Keating, Irish Central