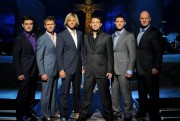 On Wednesday, October 23, 2013 global powerhouse, Celtic Thunder will play in concert at the Pikes Peak Center and on November 26 at the Budweiser Center in Loveland.
Named Top World Music Artist twice by industry bible Billboard, Celtic Thunder's six male soloists perform both solo and ensemble numbers. They are known for performing an eclectic mix of songs, ranging from traditional Irish fare to international hits such as "The Boys are Back in Town" and "Still Haven't Found", as well as original compositions by the musical directors/composers and individual group member Keith Harkin's "Lauren & I". Their live shows are recognized for the use of dramatic effects via lighting and choreography as well as a stage set resembling an ancient stone pathway drawn from Celtic lore.
A highly anticipated television special surrounding the MYTHOLOGY tour began airing nationally on February 28, 2013. Celtic Thunder has become one of public television's largest draws. In terms of viewers, their shows have aired over 16,000 times on Public Television. The group is among the top five audience-generating acts on the network. Check local listings for airing dates/times of Celtic Thunder's new MYTHOLOGY special.
"We had a blast making MYTHOLOGY. The music choices were carefully selected to suit each guys' personalities and give them something they can really dig their teeth into. The musical arrangements, the orchestra, the band are all great also, and really help to create our best show to date. It's great to be singing songs that are so much a part of who we are. It's our heritage and it really resonates in MYTHOLOGY " Neil Byrne, Celtic Thunder
CELTIC THUNDER: October 23, 7:30 PM at PIKES PEAK CENTER 190 S. Cascade Ave., Colorado Springs, CO Tickets are available online at www.ticketswest.com, by phone at 719-520-7469 or at the World Arena and Pikes Peak Center box offices or Front Range King Soopers. November 26, at the Budweiser Center, Loveland Colorado, tickets at comcastTIX.com