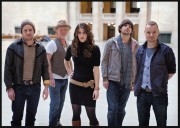 Celebrate the "Celtic New Year" with the world-music scene's preeminent Celtic party band, Gaelic Storm, Friday November 1st at the Gothic Theatre!
Gaelic Storm came to worldwide attention when they were seen as the energetic band playing during the steerage party in the block buster movie, Titanic.
Since then, the irrepressible band continues to perform their signature acoustic, indie-folk -rock and world grooves with Celtic tradition, in concert to enthusiastic fans over 200 days a year!
Their ten recordings have been on the top side of Billboard's World Music Charts including "The Boathouse" which was just released in September. The always witty band were quick to comment,
"We can't believe it. Without iTunes, Amazon, or retail stores of any kind, we managed to hit #1 on the Billboard World Albums chart for the FOURTH TIME! We didn't even have to twerk on live TV. We can't thank you guys enough. GS fans are the best there is!"
The Boathouse is described by the band as "Classic songs of the sea – Recorded in one whiskey fueled week in a boathouse on The Chesapeake Bay." The songs contain tales "From New York to Cork City, Liverpool to Mobile Bay, from Greenland to Hawaii: Pirates, Slave Traders and Johnny Jack Tarrs aboard Three Skysail Yarders and Fully Rigged Clippers face the dangers of the mighty whale, the roaring wind, the crashing ocean, the flying cannon balls and the ladies of ill repute."
The Boathouse has inspired the band as a new way of making music. They refer the idea of traveling to a remote location in order to record for one week as the "Small Batch Sessions." Pressing a limited amount and offering it only on their website and at live concerts, they make their CD exclusive.
Gaelic Storm is: Patrick Murphy (Cork City, Ireland) Vocals, Accordion, Harmonica; Steve Twigger (Coventry, England), Vocals, Guitar, Bouzouki; Ryan Lacey on drums and world percussion; Kiana Weber on fiddle (USA) and Pete Purvis ( Merrickville, Ontario) Uillean pipes, tin whistle, daeger pipes and highland pipes (a Grade 1 piper who toured with award winning pipe bands).
Friday, November 1st, 2013, Showtime: 7:30 PM Doors Open: 6:30 PM
Gothic Theatre, 3263 South Broadway, Englewood, CO 80113-2425
All Ages (under 16 w/parent or guardian) – General Admission
Advance Tickets: $22.00 Day of Show Tickets: $27.00
Tickets available online www.gothictheatre.com
(subject to service and handling fees).
Info: Celtic Events 303-777-0505