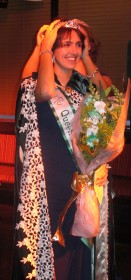 photo) The new Queen Colleen, Aryana Jackson, adjusts her tiara with help from outgoing Queen Jessica Lesser (background). The coronation took place November 2ne at the Celtic Tavern in downtown Denver.
Aryana is a 19 year old Graphic Design student and loves to draw, paint. She has strong ties to Ireland and her mother is an Irish citizen. Aryana and her Court will lead the 2014 Denver St. Patrick's Day parade and represent the parade and Irish community at functions throughout the year.
The 2014 Queen Coleen Court includes:
Kally Johnston, who received "Crowd Favorite" award at the coronations. Kally graduated from DMACC in Des Moines, Iowa with a degree in photography and have been in Colorado since 2012. I enjoy art, spending time with friends, painting, and cookingChelsea Peterson – Sponsored by the American Legion
Chelsea Peterson is a 21 year old senior at the University of Colorado studying Integrative Physiology and is an active member of the Alpha Chi Omega sorority. Chelsea has grown up in the Denver Irish community participating in Irish Dance.
19 years Danielle Sheehan was born and raised in Denver and is currently in the Architecture program at the University of Colorado Denver. She loves to read, write and draw – and enjoys racing cars with her Dad.