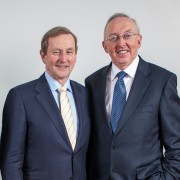 Photo: Consul General of Ireland, Gerry Stanton (right) stands with fellow Mayo man, Taoiseach(Prime Minister) Mr. Enda Kenny.
Consul General of Ireland, Gerry Staunton, recently announced that he will give up his post
at the Consulate General of Ireland, San Francisco after summer and retire to Ireland.
"After 5 great years, I finish my assignment at the end of September," said Staunton who added,
"My successor as Consul General is Philip Grant. The new Vice Consul is Kevin Byrne."
Staunton took the role of Consul General of Ireland, for the Western United States August, 2008.
A representative of the Irish Government, Staunton's primary role is to provide
assistance to Irish citizens in Alaska, Arizona, California, Colorado, Hawaii, Guam & The Marianas, Idaho, Montana, New Mexico, Nevada, Oregon, Utah, Washington and Wyoming.
In addition to his responsibilities to Irish citizens, Staunton quickly gained a reputation for reaching out to the Irish American communities in his territory in hopes to create and strengthen economic, social, and cultural ties between the U.S. and Ireland. He made noticeable trips to Colorado where he was instrumental in coordinating a visit by Irish Ambassador Michael Collins as well as spearheading the development of the Irish Network Colorado (INCO). INCO is a business network that connects Irish expatriates, Irish-Americans and friends of Ireland, to provide a forum for social, business, and professional networking.
Maura Clare, of Conference on World Affairs, and current INCO Vice President , spoke of Staunton's involvement in Colorado's Irish community with appreciation. "Gerry Staunton put the hyphen in "Irish-American" for our community. Through him, Irish expats in Colorado have had a solid connection to home, and we of Irish descent have discovered a substantive link to our heritage. I hope Gerry will continue to visit often, as we would otherwise dearly miss our charming friend."
Tom Burke, co-founder of INCO and current board member said this about Staunton's departure, "Gerry Staunton has been a unique resource for the Colorado Irish American community. His strong communication skills and physical energy always made our Colorado community feel that he was nearby, even though he has been stationed in San Francisco. You could be at an Irish American community luncheon in Denver and never be surprised to see Gerry Staunton walk in and join you for lunch. He will be sorely missed."
Fellow INCO co-founder and Denver businessman Ciaran Dwyer (from Killkenny) added. "Gerry combined professionalism, guile, vision, humor with a steadfast commitment to furthering Irish causes. He has a natural gift for connecting and influencing people. Our own Irish Network Colorado (INCO) was his brainchild. We will miss the lively banter and will look him up on our visits home."
Staunton reciprocated his appreciate for his Colorado friends. "I always enjoyed my trips to Denver, and met some wonderful people there. I was most happy to have been centrally involved with the establishment of the Irish Network-Colorado and in the appointment of Jim Lyons as Irish Honorary Consul in Denver."
Irish Honorary Consul , Jim Lyons, who is also a Denver based Attorney who has worked in Ireland as Special Advisor to the President and Secretary of State for Economic Initiatives in Northern Ireland and the border counties of the Republic of Ireland, added his perspective and sentiments. "I think it's fair to say that Gerry, one of the more senior and experienced officers in the Irish Department of Foreign Affairs, brought gravitas and his stature to the San Francisco consular position . We were lucky to have him. He sharpened the interest of the Irish government in the Rocky Mountain and Southwestern regions of the US, as highlighted by the highly successful visit of Ambassador Michael Collins to the West. Gerry is a true friend of the United States and of mine; I wish him all the very best in his next chapter(s)."