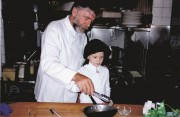 (photo – Noel Cunningham and Morgan Adams at Strings)
Not all ambassadors come decorated with ribbons and medals; some live in our midst quietly and with humility doing work that promotes peace and justice. Irish Network Colorado (INCO) is pleased to present its first annual Ambassador Award to Noel+ and Tammy Cunningham, two such diplomats, for their tireless efforts via the Cunningham Foundation on Thursday, May 2, 2013, 5-8:00 pm, the History Colorado Center, Denver. Former Governor Bill Ritter, a long-time friend of the Cunninghams, will introduce Tammy and showcase the work of the Foundation.
"The INCO Ambassador Award Gala is an annual event to honor those of Irish descent and friends of Ireland who have fostered business, social or civic relationships between the US and Ireland, or who have devoted their time and resources to promoting philanthropic causes in Colorado and around the world," said Ciaran Dwyer, INCO President, "We are thrilled to be honor Tammy and Noel with our first annual Ambassador Award." The Cunningham Foundation was founded in 2003 with the mission of helping the courageous people of the impoverished areas of Ethiopia to help themselves. The Foundation is the vision of Noel and Tammy, who were struck by both the poverty and amazing resilience they witnessed in a visit to Project Mercy in Yetebon, Ethiopia nearly ten years ago. The Cunningham Foundation supports Quarters for Kids, Hope Bracelet and Hope Heart Beads projects, and Ethiopia Libraries.
The award will be given in the context of a VIP ticketed cocktail reception. Additionally, as designated by Tammy Cunningham, all proceeds from the event will go to the Morgan Adams Foundation. "Noel and Morgan developed a precious relationship as she battled with cancer, a battle she eventually lost," commented Tammy, "Morgan spent a lot of time in the restaurant with Noel because of her frequent trips to Children's Hospital. I know Noel would have wanted us to honor her and support her family's foundation with the proceeds of the Ambassador Gala."
The Morgan Adams Foundation raises money and awareness on behalf of children affected with cancer. Working with leading physicians, the Foundation directly funds pediatric cancer research and therapies which will improve survival rates and reduce the devastating side-effects cancer treatments have on our children (for more information go to http://www.morganadamsfoundation.org/).
"We are so touched and pleased that Tammy would think of us with respect to the award being given to her and Noel. Noel was a very special person in Morgan's life and to be included in an evening that celebrates him and Tammy and their work is truly an honor," said Joan Slaughter, Morgan's mother and co-founder of the Foundation (along with her husband, Steve Adams).
Ticket reservations are underway and limited, with prices at $75 per person/$145 per couple. The cost of the ticket includes a tour of the History Colorado Center (12th and Broadway), a hors d'oeuvre VIP reception, and the award ceremony. Ticket reservations can be made through www.irishnetworkco.com.
Irish Network Colorado (IN-Colorado) is a business network that connects Irish expatriates, Irish-Americans and friends of Ireland. Our mission is to provide a forum for social, business, and professional networking for our members and to strengthen economic, social, and cultural ties between Irish and American businesses in Colorado and more broadly between the U.S. and Ireland. By harnessing the energy and synergies of its diverse membership, IN-Colorado hopes to strengthen the economic, social, and cultural ties between Irish and American businesses in Colorado and between the U.S. and Ireland.