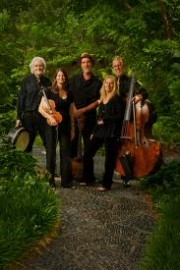 By Oliver Little
On March 16th the Denver-based Irish music group Colcannon joins forces with the Colorado Symphony for a performance at Boettcher Concert Hall at 7:30pm. The concert, "St Patrick's Day Celebration with Colcannon" is part of the CSO's 2012/2013 Pops season.
Although Colcannon has several orchestra performances under its belt already, they are particularly enthusiastic about this concert. "The CSO is such an excellent orchestra. To have the opportunity to play with a group of this caliber is really exciting and challenging for us." says Jean Bolger, the fiddle player for Colcannon. "Plus, we have a new piece to premiere, and it will be amazing to hear it come to life with the help of such great players. And of course, being right here at home, we can share the experience with our friends and local fans, which is wonderful."
The new piece in question is Colcannon's O'Toole and the Goose (for Colcannon and orchestra), a 20 minute journey that tells, in words and music, of the aging King O'Toole, his pet goose, and the elusive St. Kevin.
With compositional contributions from each of the five band members, a poetic rewriting of an old Irish legend by vocalist Mick Bolger, and orchestration by Colcannon's bassist Mike Fitzmaurice, the creation of O'Toole and the Goose was a truly collaborative endeavor. "We first started putting the storytelling, poetry, and music together a few years ago with our project The Pooka and the Fiddler", says Fitzmaurice. "Ever since then I'd been wanting to do a story/poetry piece but expand it even more to include the orchestra. When Mick wrote the text for O'Toole and the Goose for a project we did with the Heritage Irish Stepdancers we decided to 'lift' that story and use it for our next orchestral work". In keeping with Colcannon's collaborative creative process each of the musicians contributed musical material. "The five main musical motifs are each from a different band member. I contributed my own tune of course, and did all the orchestrating and stitching the whole thing together with Mick's poetry" Fitzmaurice explains.
Mick Bolger says the story of O'Toole and Goose, based on an old Irish legend, appealed to him on many levels. "When people hear "storytelling" these days they tend to automatically think it's for children, but stories are cathartic at any age. The story of O'Toole and the Goose is kind of a 'grown-up' story. It's not a big action story with villains and monsters; it's quieter than that. It speaks to people's fears of aging and of dying and to the great bond we have with our animals. It's really fundamentally about love, and sacrifice, and grace." And what about St. Kevin, who would certainly be familiar to most Colcannon fans already? "Well, this is a definitely a different side of St Kevin. He was, after all, a very complex individual" Bolger deadpans.
Traveling out from Michigan to conduct the orchestra for the concert will be Grammy award winning conductor John McLaughlin Williams, who first worked with the band in 2005. "We really enjoyed playing with John, and have been hoping for another chance to do something together. So when the CSO asked if we had someone in mind as conductor, he's the first person we thought of. He's a wonderful musician, and he's excited about our music- and, he's a fiddle player! Well, a violinist, actually… but he's adventurous and a good sport, so we'll probably be able to get him to play something with us" says Jean with a laugh.
In addition to O'Toole and the Goose the concert will feature two movements of Mike Fitzmaurice's Red Kite (Concerto for Colcannon and Orchestra) and fiddler Jean Bolger's orchestral suite Táimse im' Choladh (I Am Sleeping), as well as arrangements of Colcannon audience favorites such as The Streets of Our Town and Athens Hotel.
Tickets are available through the Colorado Symphony website and at the Boettcher box office (303) 623-7876 or (877) 292-7979 Toll Free Box office email: [email protected]

+++++++++++++++++++++++++++++++++++++++++++++
Note: Colcannon we'll also be at the Broomfield Auditorium. An afternoon show — that's at 3 p.m. on Sunday, March 17!
You can get tickets here: http://www.brownpapertickets.com/event/290178