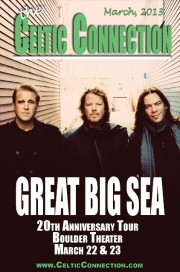 By Karl Kumli
Great Big Sea is a band which could have had serious identity issues. Could've been a pop-oriented band. Could've been a trad-oriented band.
Notice I did not say that Great Big Sea actually has any identity issues. These three guys know exactly what they are all about. They ARE a pop-oriented band and they ARE a trad band. In GBS World – centered in Newfoundland and its maritime traditions — if you do some things extraordinarily well, you keep on doing them. So Great Big Sea does both. They have been playing and singing traditional and pop-oriented music – sometimes fusing the two – for a score of years now.
Front man Alan Doyle, has so much rapscallion in his personality that Russell Crowe takes lessons from him. If Sean McCann – whose evocative tenor adds sweet harmony but can pack an ale house wallop as well – actually had been a shanty man in the days of tall ships, captains would simply have turned the bark over to him and let his songs fill the canvas while his bodhrán pounded down the seas. Multi-instrumentalist Bob Hallett moves from low whistle to fiddle to squeeze box (and guitar, bouzouki, mandolin, tin whistle and, reportedly, saxophone) with effortless artistry. Combined, with bass and a drummer, Great Big Sea can rage like a nor'easter or sigh like a wavelet disappearing into sand.
With GBS, however, you always get a little extra: a little extra energy, a little extra humor, a little extra dancing. In a live show it might be that third encore, an a cappella version of Old Brown's Daughter offered up, sans microphones, to a raucous, packed-house crowd; every man Jack of 'em hushed to silence by the sheer beauty and simplicity of the end-of-evening vocals. On an album it might be that extra cut – not even on the playlist – lurking to swallow you up when you finally let the CD play all the way through.
That twenty-year history is fully on display in their latest recorded offering, appropriately titled "XX". It's a two-disk set. Powerful stuff by anyone's dead reckoning. Favorites like "Boston and St. John's"; trad stuff like "Captain Wedderburn" and "Lukey" (with some band called The Chieftains backing up the Boys from Newfoundland). Barn burners like "Captain Kidd" and "When I am King." And it has a few extra cuts – okay, six of 'em – that you've probably never heard before. One of the new ones, "Heart of Hearts" might even be hit-bound on its own.
Twenty flippin' years is a lot of time for a band which expends energy in gigawatts as GBS does. So you can bet your last bottle of Old Black Rum that the Twentieth Anniversary Tour is likely to be something special. In fact, like the XX album, the tour comes in two parts. Part One cranks up on the left coast and moves from California to Boulder over a fortnight. After the two shows at the Boulder Theater — Friday, March 22 and Saturday, March 23 – the band will be taking a two week break before hitting east coast stages to wrap up the tour. Those two Boulder shows (only Edmonton, Calgary and Boston are other stops with double dates), with a break for the band afterward, should be peel-the-paint-off-the-walls affairs.
It seems flat-out weird that a band from Newfoundland – immortalized in sea lore as a place where sailors could freeze to death aloft – would exude great warmth, but it's true. A Great Big Sea house party, a hooley, or a gas, is a fair antidote to the last of winter's roar. If the groundhog really did see his shadow in February, the upcoming Boulder GBS shows are likely to be a fine chance to chase away the chill. Then again, perhaps the GBS fire isn't really so very odd at all.
GREAT BIG SEA
TWO ALL AGES SHOWS
Friday March 22 and Saturday March 23
Both Shows at 8pm with 7pm Doors
BOULDER THEATER, 2032 14th Street Boulder, CO 80302
ALL SEAT RESERVED $35.00 and $29.50 Available at www.bouldertheater.com 303-786-7030.
Show information/Groups/Purchase by check call Celtic Events at 303-777-0502
Karl Kumli is one of the hosts of Seolta Gael, a weekly program of Celtic music, culture and news on radio station KGNU 88.5 FM Boulder, 1390 AM Denver, or streaming live a www.KGNU.org. The program airs at 7:00PM every Wednesday. KGNU celebrates 30 years of Celtic music on the Colorado airwaves this month!