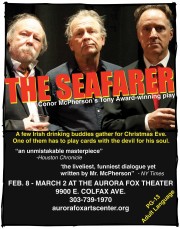 The regional premiere of Conor McPherson's Tony Award-winning play "The Seafarer" will open February 8, 2013, for a four-week run at the Aurora Fox Theater.
The play, one of the most frequently produced plays at regional theaters around the country, is about four Irish drinking buddies gathered together on Christmas Eve; and one of them has to play poker with the devil for his soul.
"A deep and enthralling fable of despair and redemption," the play also contains "the liveliest, funniest dialogue yet written by Mr. McPherson," according to Ben Brantley of the New York Times.
The play has also been called "an unmistakable masterpiece" (Houston Chronicle), "a timeless classic" (Hollywood Reporter), and "far and away the best Irish play since the glory days of Samuel Beckett" (Chicago Tribune).
Performances are scheduled for 7:30 p.m. Fridays and Saturdays from February 8 through March 2, with matinees at 2 p.m. Sundays February 17 and 24, at the Aurora Fox Theatre, 9900 East Colfax Ave. For reservation or more information, call the Fox at 303-739-1970, or go to aurorafoxartscenter.org.
The production is a collaboration between Ashton Entertainment and some of the key creative members of the Paragon Theatre ensemble, including founders Michael Stricker (Executive Director) and Warren Sherrill (Artistic Director), and Managing Director Wendy Franz. Stricker is directing, Sherrill is in the cast, and Franz is the sound designer and dramaturge.
The cast features John Ashton (Dearly Departed, Sylvia – Aurora Fox, Avenue Theater), Brock Benson (Newark Violenta, It's Just Sex – The Edge), Kevin Hart (Conviction – 59E59 Theater in New York, November – Avenue Theater), Steve Sealy (Dearly Departed, Picasso at the Lapin Agile – Aurora Fox), and Sherrill.
Stricker is the Director of the Northglenn Arts & Humanities Foundation and Cultural Programs Supervisor for the City of Northglenn. Directing credits include A Moon for the Misbegotten, (W)hole, and the multiple Henry Award-winning Frankie & Johnny in the Clair de Lune.
Set Designer is Stuart Barr, technical director of the Department of Education for the Denver Center for the Performing Arts.
"We are very proud and excited to be working with these great creative talents from Paragon," said Ashton. "We've got a powerful cast, a skilled design team, and we're glad to be back at the Aurora Fox."