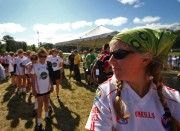 Warning – GAA (Gaelic Athletic Association) sports can be addictive! Erin Sudsmails will attest, "I discovered Gaelic football and I was hooked – not just the fast pace of the game, but the GAA has such a fun and welcoming community." Now she wants to help spread GAA sports into Northern Colorado.
Erin Join the Denver Gaels women's team (the Gaels also have men and youth teams) in 2009. Later that year she travelled to Boston with her teammates where they won 2nd place in football at the Nationals. She continued to play with the Denver Gaels in 2010 but has since moved north of the Denver metro to where she opened a business as a drug and alcohol counselor.
Recently she has set the framework for The Northern Colorado Celtics mens and womens teams. She has a logo design (donated by US Navy veteran Ed May from Fort Collins), set up social media, and has sent out a press release to media which is posted below:
The Northern Colorado Celtics are a new GAA club for all the Northern Colorado Communities. They are currently recruiting both men and women for both women and men specific teams in Hurling and Gaelic Football. Anyone can try out that is over 18 years old. Also you do not have to be Irish or Celtic to play the sport, just a willingness to learn some amazingly fun sports with a great community of people.
Gaelic football combines the suspense of soccer, the skills and scoring of basketball, and the speed of the fastest sports in the world in a free-flowing action-packed sport. It originated in Ireland centuries ago, but it's taking off in North America. Try it!
Hurling combines the skills of baseball, hockey, and lacrosse in one high speed, high scoring, high octane sport that will blow you away. It's taking off in North America. Try it!
Ladies Gaelic Football is one of the fastest growing sports in the world. It combines the skills of basketball, soccer and volleyball in a high-scoring, suspenseful, high skill game.
Players on two teams of 15 kick the ball into their opponents' goalposts either into the soccer-sized net for 3 points or over the crossbar between the uprights for 1 point. You can kick the ball on the ground, kicked from the hands, pick it up from the ground or catch it in the air. It can be carried for 4 steps (or the time it would have taken to take 4 steps) but after that you have to do something with it, either kicking it back into your hands (the 'toe-tap') or bouncing it. The catch? You can't bounce it twice in a row.


(Photos by Mallory Olenius)
If interested please contact Erin at: [email protected] or call Erin at 970-586-3578 Practices will start in April, but would love for you to march in the Saint Patrick's Day parade in Fort Collins with the team!!