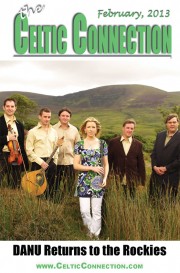 In Celtic mythology, Danu is considered the mother of the gods. In Irish music, Danu is considered one of the top traditional bands in these modern times.
Band founders Benny McCarthy, Donal Clancy and Donnchadh Gough from Co.Waterford with Dubliner Daire Bracken first met at the Oireachtas Festival in Dungarvan,Co.Waterford in November 1994 . Within a year they were performing concerts around the world to rave reviews.
The band went through some changes over the years, including the departure and return of Donal Clancy, and the addition of its first female member, vocalist Muireann Nic Amhlaoibh from County Kerry.
Now, having performed in over 1,000 venues all over the world, Danu has grown to become one of the leading traditional Irish ensembles of the 21st century. For over a decade, Danu's virtuosi players on flute, tin whistle, fiddle, button accordion, bouzouki, and vocals (Irish and English) have recorded seven critically acclaimed albums and won two BBC Radio 2 Folk Awards for best Traditional Group. Their second album Think Before You Think was voted Best Overall Traditional Act by Irish Music Magazine
Danu will bring their high-energy celebration of the Emerald Isle to the Rialto Theater on Saturday, March 2, kicking off St. Patrick's Day celebrations in Loveland CO. A limited number of V.I.P. tickets are available and include a private pre-show acoustic performance from members of Danu.
The concert begins at 7:30 pm and a private VIP pre-show begins at 6:30 pm. VIP tickets include a free drink, canapés, a cash bar, and an acoustic performance by members of Danu. VIP tickets are available for $45 and standard tickets for $25; all tickets may be purchased online at www.rialtotheatercenter.org, by phone at 970-962-2120, or at the Rialto Theater Center box office. The Rialto Theater Center is located at 228 E 4th Street in Loveland.. For more call or visit www.rialtotheatercenter.org.
On Sunday March 3 the band travels to Lakewood Cultural Center 470 S Allison Pkwy, Lakewood, CO for one matinee concert at 3:00pm , and a second concert in the evening at 7:00 pm. Tickets at 303-987-7845 or online at www.Lakewood.org/Tickets
Tuesday March 5, Danu travels up the turnpike to perform at Mackey Auditorium,285 University Ave, Boulder, CO 80309 at CU campus in Boulder, CO, at 7:30pm. Call us at 303-492-8008 Monday-Friday 9 a.m. to 4 p.m., or buy online at www.cupresents.org.