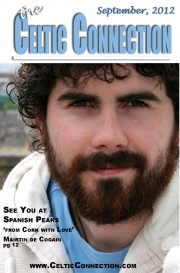 Cindy Reich caught up with Máirtin last month on one of his brief stops home while he washed clothes and they had a live chat on 'The Long Acre,' Cindy's radio show on KRFC
CR—You have visited Colorado before with the Fuchsia Band, and will be in attendance this fall at the Spanish Peaks Celtic Festival. I understand you will be teaching a storytelling workshop there.
MdC—That's right! They're figuring out how many of my talents they're going to make use of while I'm there, so I'll be doing a good bit of storytelling. I was just down at the Catskills Irish Arts week, trying to instruct the people in my class how to be a storyteller. It's great to be passing on the tradition—at least the bit I know, anyway! I was also just at the Augusta Irish Arts week in West Virginia as well, and after Spanish Peaks I'll be at the O'Flaherty retreat in Dallas, Texas. Tis everywhere I'm going!
CR—Has anyone made you a decent cup of tea lately? Cause God knows, you like a well made cup of tea!
MdC—You know, I had a great cup of tea one day in New York! There is sort of a subsection of Queens, on the border of Sunnyside and Woodside. There's a bar there—mostly bar—at 49th and Stillman and they have Barry's Tea there! And not only that, they have nice milk—and a kettle!! Donnie will give you a grand boiled egg and a fine cup of tea wherever you're at there!
CR—Tell us a bit about your new project that you've got up on the Kickstarter website? Because we just played "The Rose Of Coberg Street" off your album, "From Cork With Love" and you are now going to produce a DVD about all of the places on the album—to bring it to life so to speak? (Kickstarter is a website for artists to raise funds for projects—there is a fixed time frame and fixed amount. Anyone can contribute. If the funds aren't raised by the deadline, no one pays. For more information: www.kickstarter.com)
MdC—I've been meaning to do this for a very long time. For any artist, it's hard to pull the funds together, but I couldn't hold the dream back any longer. So, someone said, "Why don't you do Kickstarter?" and I put my faith in the people and they're coming back strong. It's going to cost $15,000 to make it. I'm going to take people via the DVD around the places—much like "The Rose Of Coberg Street". I'll bring you down to Coberg Street, show you what's there now—tell you about what was there before… Show you the romantic spots of Cork—and some not so romantic spots! We'll bring you along the river and show you where Johnny went rowing down to Blackrock, and the fine walkways down on the marina where people fell in love long ago—where the whole courting process went slowly in the days before you found yourself at O'Riordan's drunk next to your partner for the next couple of years! I've got the cameraman and I've got Jimmy Crowley and John Spillane signed up to be a part of it and talk about the songs they gave to the album. John's going to tell us about Prince's Street, for example. The main thing we want to do with this project is to let everyone know that Cork is the center of the universe!!
CR—You know, I think that the Spanish Peaks Celtic Festival is the best Celtic music festival in Colorado by a mile. It reminds me a lot of Mairtin Hayes' "Masters Of Tradition" Festival in Bantry. In an even more beautiful location. So you will find out for yourself at the end of the month, but it's a wonderful, wonderful festival. Now in your storytelling workshop, do you teach people the basics of telling a story and then have them tell stories?
MdC—I try to show people what a story is—we look at urban legends as well as ancient tales from the Ulster Cycle and the Fenian Cycle. Those are some of the things we will focus on in the workshop. I then go into the presentation of it. The "mask" of the storyteller. Then if I'm allowed, I might give them a story and then have them repeat it back and then we'd all critique it. Critique is the hardest part of storytelling and something the modern world isn't open to, so trying to get that is a big thing. With that, I also give them a few stories to go home with as well.
CR—What is it about Cork? It seems many of the most prolific storytellers and songwriters for that matter, seem to come from Cork. What's that all about?
MdC—I dunno—It is a place where people are very positive about each other when they get a chance to get out and do something. We've always had great artists… MicroDisney, Rory Gallagher, John Spillane, Ger Wolfe—The Fuchsia Band is joining that band of merry men traveling around the world.. there's a massive crowd coming out of Cork all the time, you know? I don't know what it is—we've all just had our "party piece" which is part of the tradition. By the way, I think Pat (McCullough) the man of wonder and mystery might have me teaching dancing to the locals at the Spanish Peak Celtic Festival!
CR—You'd better get your ghost stories together as well, for the first afternoon of the festival, there is a ceili at a real ghost town called "Up Top" in an old dance hall. There will be dancing and music and it is a mighty start to the festival!
MdC—Shall I bring my pan and look for a bit of gold?
CR—You might—maybe you'll make enough to pay for the trip—there's gold in them thar hills, or so they say. Now, which song would you like us to go out on from "Cork With Love"?
MdC—I'd say "Johnny Go Boating", would be a really romantic one, of days of old, in Cork when there wasn't as many bridges and people used to have to use the boatmen to go across the river, because Cork is an island itself. It was once known as "The Venice of The West" in the days before we had the 29 bridges we have now over the River Lee. The boatmen used to tie up on Sundays, as there was no real work and people used to rent them for a short while and row down to Blackrock in a very romantic way. It's a lovely song by Gus McLoughlin about two old lovers trying to rekindle that magic they had when they rode down to Blackrock long ago.
You can check out Mairtin de Colgan's music at his website: www.mairtinmusic.com
*******************************
Join Máirtin de Coagin for Song, Dance, and Stories at Spanish Peaks
Máirtin de Coagin will possibly be the hardest working man in show business over
the Spanish Peaks weekend September 27-30. Here are some of the activities that you can do with him:
Thursday 12:00 pm Lunch at The Dog Bar in CUCHARA; 1:00 – 2:30pm Cuchara Ceili with set dancing in the street 5:00- 6:30pm
Friday 10:00 – 11:30 Set dance workshop in Walsenburg at Museum of Friends for HS students & participants (recorded music or Michael Harrison and Janine Redmond will play music for the wkshp); 12:00 – 2:45pm Opening picnic & ceili at UPTOP; 3:15pm Irish set dancing – final run-through at Museum of Friends; WALSENBURG 3:45 – 5:30pm Irish Ceili 6TH Street Concert led by Willson and McKee WALSENBURG; 10:00pm "The Guid Craig Club" Open to anyone who "Tells a story, sings a song or plays a tune DEERPRINT WINE, LA VETA
Saturday 10:15 – 11:15 am Irish Set dancing workshop 4H , La Veta 1:00 – 3:00 pm Matinee Concert "Top of the Irish performs & leads set dancing 4-H LA VETA
10:00 pm If anyone game -set dance calling in La Veta Inn
Sunday 9:00 – 10:00am Talk/song: "Blarney, Brown Bread and Barry's Tea" LA VETA INN,Songs, Stories from Cork served with Irish bread and tea; 11:15am – 12:15pm Singing for Fun, Songs from Cork 1889 INN, LA VETA; 1:00 -2:15 pm Irish Lunch COMMUNITY CENTRE, LA VETA: 2:30 pm Irish Hooley Concert and set dancing to follow LV High School
Register Now at www.CelticMusicFest.com or call 719-742-5410