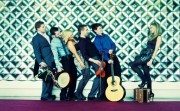 Performers and instructors include: MARTIN HAYES, DENNIS CAHILL, ROBBIE O'CONNELL, PADDY O'BRIEN, ROGER LANDES, MAIRTIN de COGAIN, FULLSET, JANINE REDMOND, MICHAEL HARRISON, TERESA HORGAN, SEAN McCARTHY, ANDREW MEANEY, EAMONN MOLONEY, ADAM AGEE, JON SOUSA, HEATHER YULE, WILLSON & McKEE, WENDY STEWART and more TBA
(Advance Discounts Available for Limited Time)
Over the centuries, the famous Spanish Peaks in Huerfano County, Colorado, have been welcome landmarks to Native American tribes, explorers, immigrants traveling the Santa Fe Trail. Over the last week of September, the peaks, also known as Huajatolla (pronounced Wa-ha-toy-a, Ute translates as "Breasts of the Earth") will be the beacon guiding Celtic music lovers to one of the most unique events of its kind, the Spanish Peaks International Celtic Music Festival.
"Spanish Peaks," as the Fest is referred to by many, is a retreat as much as it is a festival.
Folks come from near and far to learn and celebrate the living traditions of Celtic music, dance, singing and storytelling. Some come from great distances to take part in the festival and also explore some of beauty and history of Huerfano County.
The festival is designed for all levels of interest and all budgets. You will find the casually interested taking advantage of free entry level workshops to seasoned professionals who want to learn a new tune or nuance, and network and play in sessions with other world class players.
"Spanish Peaks" is unique in a number of ways. You won't find the tell-tale field full of tents that defines most festivals. The event, September 27-30, is an Huerfano county wide festival that includes the four major areas of population, Cuchara, La Veta, Walsenburg, and Gardener. The artisan town of La Veta is the center of the festival workshops and houses the fest's office and store. Concerts and other activities are held throughout the 4 towns, and the annual Harp Retreat will again be held in Walsenburg. Walsenburg will also be the site of a new offering this year, a free early evening street concert and dance hosted by Willson and McKee. It will end in time for you to enjoy dinner and get over to the much anticipated Martin Hayes and Dennis Cahill (and friends) concert at the Fox Theater a couple blocks away. FullSet (and friends), a young award winning band from Ireland making their first Colorado visit will headline at the Fox Theater on Saturday night.
One of the most unusual events offered at "Spanish Peaks" is the free Friday noon Ceili/Ceilidh (Kay-Lee, both spellings)/picnic at the awesome "UPTop" Ghost Town off old La Veta Pass. This relatively new event is becoming an increasingly popular event for locals and out-of-towners alike as they play, sing, and dance at the old abandon saloon.
By popular demand there will be more dancing this year as Irish Set dancing (all ages/partner dancing) is introduced to the fest by multi-talented Mairtin de Cogain, who besides singing and telling stories, teaches and calls the exciting dance form.
Players who want to learn "The Lift" to play for dancers will have the opportunity to take workshops to learn and hone their skills.
The night owls will enjoy post night concert music sessions, and new night storytelling and set dancing.
Time to get excited about this special event and get in on "early bird" discounts while they last at www.CelticMusicFest.com or links at www.CelticConnection.com