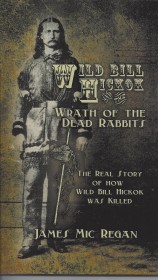 From May 2012 Celtic Connect 'BOOKKEEPING' review by Mary McWay Seaman
The old American West has long been sentimentalized in story, song and film, but this book does none of that. It portrays a sorrowful world with widespread violence, mortal infections, short life spans, and few creature comforts. James Mic Regan's book, comprised of historical research, legends and his grandfather's stories, presents a fresh look at James Butler "Wild Bill" Hickok, a Union Civil War veteran born in 1837. He was also a drifter and a hard-drinking, gun-slinging, poker-playing peace officer in the West who came up against members of a far-flung Irish gang out of New York City.
Around 1850 an Irish clan of Kellys formed a violent gang of robbers and killers in New York City. Products of extreme poverty and criminally dysfunctional families, they sported tattoos of dead rabbits impaled on spears and left actual dead rabbits on enemy corpses. Many joined the Union Army's all-Irish regiment (the New York Fighting Sixty-Ninth) and some were incorporated into the Irish "WHYOS" gang of New York after the war. Some enlisted in George Custer's Seventh Cavalry as the "Irish Avengers." One-third of Custer's soldiers were Irish, and most identified themselves as Dead Rabbits or Irish Avengers with roots in New York. James Mic Regan asserts that these Irishmen "plotted, carried out and covered up the assassinations of Wild Bill Hickok in Deadwood, South Dakota, and his only trusted friend, California Joe." The killings were alleged retribution for Hickok's slaying of Seventh Cavalry soldier, John Kelly. The Irish Avengers (a criminal cartel of sorts) had ties with Doc Kelley's gang of Dodge City, Kansas, and also with Bat Masterson, Wyatt and Virgil Earp, Doc Holliday and William Bonney (Billy the Kid).
In 1869 Hickok was Marshal of Hays City, Kansas and Sheriff of Ellis County. He drew a salary, additional pay for each arrest, and a percentage of fines collected. Arrests soared in the dog-eat-dog environment. Hays was a wild town with all the attendant ills of frontier life, and Hickok had run-ins with the Seventh Cavalry Irishmen. He left in 1870 for work in Abilene, but soon found trouble there after a shooting: "The citizens of Abilene had learned what the citizens of Hays City had realized – that Wild Bill Hickok was not the great well-admired lawman that the eastern dime novel writers told about." Many believed that he was "a trigger-happy paranoid gunman . . ."
Hickok settled in Deadwood, Dakota Territory, in 1876 and was shot dead in the Number Ten Saloon there during the Gold Rush. James Mic Regan's evidence points to Hickok's death by the Kelly killing machine. His grandfather's stories set up Hickok's final card game with details from a Kelly who belonged to New York City's Irish gangs, the Fighting Sixty-Ninth Union Army Regiment, and Custer's Seventh Cavalry. The author's grandfather met this Kelly clan member – an old soldier named Kidd Kelly – in Prescott, Arizona around 1920. Sporting a tattoo of an impaled rabbit, he delivered his life's story from famine-stricken Ireland to Wild Bill's death in Deadwood.
The layout of the Number Ten Saloon is delivered in exquisite detail. The fall guy in the Hickok assassination was a local hand-to-mouther named Jack McCall. Two Irish Avengers finished Hickok off after McCall's gun failed. The Avengers were in no hurry to leave town; these brawlers paraded proudly through Deadwood to attend McCall's trial. McCall was acquitted, but failed to leave town forthwith; he was dispatched to Laramie where the Kellys had arranged for the army to try him again. McCall was found guilty and hanged. (Trials were speedy affairs.)
James Mic Regan relates details of Sioux Chief Crazy Horse's surrender at Fort Robinson, Nebraska, in 1877 where he was mortally injured, supposedly in retribution for the battle at Little Big Horn. The author posits that four Kellys killed him in revenge for an earlier Indian attack on a Kelly child. (The chief officially died in his sleep after being wounded by a guard.) By 1883, Tombstone, Arizona, was the "new residence for . . . fugitives of Dodge City, Kansas." Kidd Kelly had been there and offered candid looks at the silver boomtown where the Earps and Doc Holliday were feuding with the Clantons. By 1890 Kidd was sick and broke but eager to engage in a last hurrah to help stamp out the Indian threat from Chief Sitting Bull. The author tells us that Kidd and the Avengers were involved in the massacre at Wounded Knee and helped engineer Sitting Bull's execution. Kidd then moseyed on to Arizona after leaving more trouble behind in Creede, Colorado.
These new angles on crimes committed in an era of primitive technologies and old-time forensics – a time when tribalism's tenets often trumped truth – enliven historical records. (The author admits that some do not match official records.) Whether they are perceived as revisionist history is up to readers. It is safe to say that James Mic Regan's book provides plausible answers to many open questions. He rests his case.