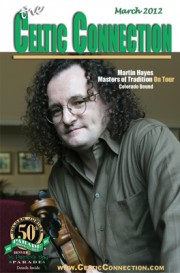 Irish fiddle virtuoso, producer, and impresario, Martin Hayes is heading for Colorado with the Masters of Tradition on Tour!
As Artistic Director of Masters of Tradition on Tour, Hayes has brought together seven of the most compelling artists in Irish music today for a unique concert celebrating the art form. Joining Hayes on fiddle are vocalist Iarla Ó Lionáird, fiddler Cathal Hayden, guitarists Dennis Cahill and Seamie O'Dowd, Máirtín O'Connor on accordion, and uilleann piper David Power.
With performances of solos, duets, trios, and full group collaborations, the evening's format gives real insight into the musical journeys that these musicians, and the masterful music they play, have taken over the years.
Masters of Tradition is named for the highly-regarded music festival held each August in the Irish coastal town of Bantry, Co. Cork. Martin Hayes devised the festival, in collaboration with the classical music organization West Cork Music, in order to create a space where the heart of traditional music could be revealed. The intimate performances take place in an old stone church in the town center and in Bantry House, one of Ireland's most beautiful 18th-century Georgian mansions.
"When we started this festival in 2003, my belief was that a sufficient audience with interest in the most authentic form of Irish music must surely exist; that the music itself does not have to be shaped and bent to meet the perceived needs of an audience. In its purest form it speaks a universal language. I have sat through almost all of the performances each year of this festival and every time I leave Bantry, I do so with a renewed faith in the strength of this music." said Hayes.
In 2009, the Sydney International Festival invited Hayes to create a touring version of Masters of Tradition to play at the Sydney Opera House. The remarkable line-up of Irish musicians quickly sold out a two-night engagement at the 3000-seat venue, captivating the audience and winning critical acclaim.
The touring group makes their American debut in April 2012, ending their tour Friday April 20 at the Gothic Theatre in Denver, Colorado.
"The goal of this touring show is to focus on the details and nuances of Irish traditional music," says Hayes. "The performers are all masters of their instruments. Through their talent and abilities, the sophistication and artfulness of the music is revealed. "
"We are very excited to be one of the regions selected for this tour," said Pat McCullough of Celtic Events/Celtic Connection. "All of the artists involved have their own solo and group projects so they have a small window of opportunity to tour with MOT. If Colorado Irish traditional music fans miss this unique ensemble their next, and possibly only, chance to see them will be in Ireland!"
For information and tickets for this remarkable line-up of Irish musicians in concert April 20th, you can call Celtic Events at 303-777-0502 or go online to www.GothicTheatre.com or www.CelticEvetns.com
Tickets also available in person at the Denver Folklore Center 1893 S. Pearl St. Denver.