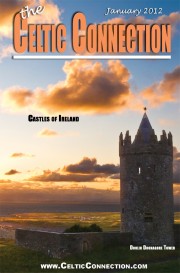 Brian Luke Seaward
Like many Americans, I have always had a fascination with castles. Large, thick, wooden doors, towering turrets, ivy covered walls and spacious water fountains form an undeniable alchemy of intrigue. If you have ever seen a photo of Schloss Neuschwanstein in Bavaria, Germany, that which inspired Walt Disney so many years ago, then you know exactly what I mean. Perhaps my fascination exists because ours, with the exception of the Kennedy Camelot dynasty, is a country without kings and lords. Moreover, unlike Ireland, ours is also a country without authentic castles. American mansions, regardless of astronomical square footage, are not, I repeat, not castles. Okay, like many people, I have been to the Biltmore Castle in Asheville, N.C. (even Gillette Castle in Connecticut) and as nice as they are, in my humble opinion, they really don't count as castles.
I'll chalk up my interest in authentic castles (with turrets, draw-bridges and moats) to hearing one too many fairytales read to me as a small child. With any luck, childhood fantasies eventually mature into adult dreams. As usual in my case, the luck of the Irish would prove immeasurable. After seeing a photo in a travel magazine, one of my bucket list dreams was to stay overnight in the renowned Ashford Castle (County Mayo). With this in mind, my castle quest began in earnest. It first began by doing a Google search, followed by acquiring several coffee-table books on the subject, (photographers like myself, it should be known, are never satisfied with just one source of reference material).
In the summer of 2011 I set out on a trip to my ancestral homeland on a quest to explore and photograph some of the Emerald Isle's most intriguing architecture; her castles. Truth be told, Ireland has no shortage of these stone fortresses. Some estimates suggest there are more than 350, with many in ruins, yet all photogenic.
If you, like me, were to compile a list of Irish castles to photograph your head would spin with delight; Ross Castle, Ashford Castle, Trim Castle, Dromoland Castle, Killkenny Castle, Birr Castle, Kylemore Abby and least we forget the Adare Manor, (beware castle hunters; both the Bunratty and Blarney Castles are two of the most popular tourist attractions outside of Dublin; this is code for much PhotoShop work involved).
While not all castles are open to the public or have limited access (Tullynally in County Westmeath comes to mind), over the past several decades, some estate castles have become hotels—many charging a king's ransom to stay in.
With camera, tripod, batteries, plenty of flashcards, and a litany of prayers to the weather gods, I headed off to the Republic of Ireland with my friend and professional photographer, Mark S. Johnson. Simply stated, we were not disappointed. All toll, our pilgrimage included sixteen castles in 8 days, indeed, only a fraction of Ireland's majestic wealth, but a bounty for photographers who can spend hours at one site alone. Even the weather was on our side (call me old fashioned, but in my humble opinion, castle photographs look best with some blue sky in the background). I also discovered that some castles, bathed in floodlights are best photographed at night, including the Ross, Trim and Cahir Castles, particularly when there are few people around.
Any professional will tell you that the best time to photograph anything outdoors is in the early morning and late afternoon when light conditions are ideal. Assuming the Irish skies aren't overcast with the infamous Atlantic Ocean mist, this can prove challenging, particularly when many castles are only open to the public outside of these prime windows of opportunity. The answer to this problem was to book a hotel reservation onsite wherever possible. Though I receive no monetary rewards for writing this, I highly recommend staying at the Adare Manor and Ashford and Dromoland Castles. My bucket list for this requirement is now complete!
Hogwarts not withstanding, the history of European castles is quite fascinating. At the start of the second millennium, fortresses such as Trim, Ross and Cahir Castles were fortifications, designed to withstand invading forces (think Monty Python's Holy Grail movie). Function and fashion merged together over the centuries, yet in many cases, the end result proved less than ideal. In the Trim Castle, for example, the kitchen was so far removed from the eating hall, that by the time the food was brought up several sets of spiral staircases, the meal was stone cold. Ironically, Mel Gibson chose Trim Castle, County Meath, as one of the major backdrops to his Academy Award winning film, Braveheart (a story, mind you, that takes place in Scotland). Without electricity and plumbing (modern conveniences of the last century) 8-foot walls may have offered protection from invading forces, but not the cold, harsh temperatures or dampness. I am going to spare you of the details regarding what castle moats were made of (again, think Monty Python). Suffice to say that medieval accommodations were nice, but less than ideal, no matter where you lived in that time period.
Over the centuries, the shape of the castle transformed from a three our four-story tower to a stately manor spread over several acres. Adare Manor is one such example. Birr Castle is another. Such detail was taken in the construction of the Adare Manor that symbolically, it mirrors a three-dimensional calendar; a story you will have to hear for yourself when you take their tour.
One of my favorite sites on this quest for all things citadel in nature was Lismore Castle. Still in private hands, we were not able to explore the interiors, save a small wing that houses an art exhibit (the estate gardens, however are available to wander freely for a small fee). Renowned for being the birthplace of Robert Boyle, the father of modern chemistry, Lismore Castle was a favorite respite for Fred Astaire, who's sister married into the family, as well as a young Jack Kennedy, who's sister also married into the family years later.
One of the most poignant stories of Irish castles is that of Kylemore Abby, County Mayo. Built as a private home from 1871-1885 by Mitchell Henry for his wife, Margaret, the edifice stands in Gothic fashion reflecting its beauty in a nearby lake. Sadly, Margaret died shortly after the completion of the structure. Like most pieces of real estate, the castle changes hands several times and is now in possession by the Benedictine nuns. Open to the public between the hours of 9-5, be sure to visit the gardens and chapel when you go.
While every castle begs to be photographed, some look best from the air, such as Ashford Castle, first built in 1218, with modifications in 1715 and again 1852 under the ownership of Sir Benjamin Lee Guinness. Under the new ownership of John Mulcahy in 1970, Ashford was renovated once again as a hotel and the grounds made way for a premier golf course. It now caters to the very rich and famous, but for some reason they allowed me in as well.
Which of these castles was my favorite, you ask? It's hard to say. Each has a charming personality all its own, and each begs to be discovered with fresh eyes and camera lenses.
If you ever decide to make a similar pilgrimage to Ireland, save up some money and be sure to stay overnight in at least one castle. Consider requesting a King-size bed, or at the very least, a Queen. And if you play golf, start working on your handicap. You'll need it, especially if you knock a ball into the moat (just kidding).
Brian Luke Seaward is an award winning author, photographer and filmmaker. He brings groups of people to Ireland each summer. The dates for his 2012 Spirit of Ireland Journey are June 15-24th. He and more information about his trips can be reached through his website: www.brianlukeseaward.net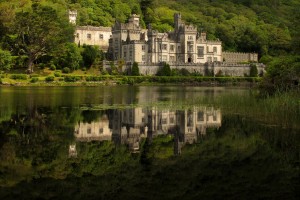 Brian Luke Seaward