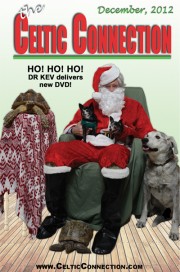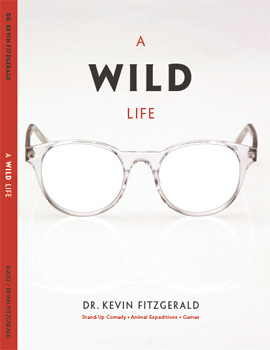 DR Kev talks to Cindy Reich about his new DVD, animals, Keith Richards and other funny things.
One cannot go through life with a name like Kevin Fitzgerald and not be Irish to the core.
"My mother's family, the Duggans, came from Ennis, County Clare, and my father's family, the Fitzgeralds came from County Mayo", related Kevin recently in an interview especially for the Celtic Connection. Most people instantly recognize the tall, easygoing Fitzgerald from his stint on Animal Planet's "Animal ER", one of the early reality series that was filmed on location at Alameda East Veterinary Hospital in Denver. Kevin's back story is both fascinating and remarkable, but that is to be expected from someone who got their career counseling from Keith Richards of the Rolling Stones.
Growing up in Denver, Kevin started working for Barry Fey, the iconic Denver concert promoter. It was a dream job, according to Kevin. It was the late 60's and the music was massive. "I just wanted to be around the music, Kevin said. I couldn't play an instrument, but I would rather sing than eat. However, most people would rather hear me eat!"
"My uncle was at the 20th street gym and everyone boxed. So we could work the door for Barry and work at Ebbets Field or at the Family Dog and the same at Tulagi's. I started working concerts and worked as a bouncer for bands that Barry had on the road. (where he met up with and worked with another bouncer for Barry Fey—by the name of Pat McCullough!) I got to go on the road with several of the bands such as The Who, Willie Nelson, Emmylou Harris and others. But to be a young guy from Denver getting to go on the road with the Rolling Stones was like running away with the circus. Everyone in the Stones had their own jobs and Richard was in charge of the bouncers and ticket cutters. At the end of the 1978 tour, he said to me, "You've been a good guy for us over a number of tours, but this isn't going to last forever. The public is fickle and this won't last. You need to do something. You can't be a bouncer when your 50 years old. He said, "You worked really hard for us and I'll help you, but this isn't always going to be here."
"So when I came back from that tour my brother, who was working for U2 came and picked me up at the airport. I told him, "Man, Keith told me I should get a grip on my life!" and my brother said, "Well, he's like the coolest cat ever—when he says something, you'd better listen!" Furthermore, as Kevin related, "My grandfather always said people will pay for a strong back, but they'll pay way more for a strong mind."
Kevin had applied to vet school when he graduated from college in the early 70's and just missed getting accepted and was put on the waiting list. So he put his grandfather's (and Keith's) advice to work and went on to do a Master's degree and a PhD in Endocrinology (study of hormones). If that wasn't enough, he taught at a medical school in Hawaii and did post doctoral work at Harvard. During the summers he still worked tours as a bouncer. In 1978 he applied to veterinary school again and was accepted. Keith Richards wrote a letter of recommendation as promised and it probably hangs on some administrator's wall!
As a veterinarian, Kevin came to national prominence as one of the stars of the Animal Planet series, "Animal ER where Kevin's gentle nature, tousled good looks and wry sense of humor make him a perfect choice for the series and America took him to heart. Kevin was always the one to get the exotic cases like an egg-bound iguana or a Tegu lizard that wouldn't eat. Kevin had always had an interest in reptiles and amphibians and continues to this day to do research, primarily with rattlesnakes. However Kevin has done much, much more, dedicating a large amount of time to animal issues around the world. He has documented much of this work which involves raising awareness of many critically endangered species as well as preservation of habitat and instructing native populations how to preserve their wildlife as a long term asset that can make more money than by killing it for short term gains.
While many would agree that a career as a veterinarian is extremely difficult and demanding, it probably doesn't come close to being as difficult and demanding as becoming a successful stand-up comedian. For 26 years, Kevin's stand up comedy has achieved a legendary status. While he has a lot of excellent life experiences to draw upon for his comedy, it would be safe to say that Kevin seems to thrive on a life that would send most rational people screaming for cover. Whether he is practicing his Irish step-dancing in green tights a lá The Jolly Green Giant at a comedy gig in Loveland (I actually fell off my chair laughing at that one!) or convulsing the audience at a Denver comedy club, Fitzgerald's low key, deadpan humor sneaks up on you and you're helpless to resist.
Therefore, there was much rejoicing in the announcement and release of a superb DVD that Kevin has spent years to put together. First and foremost, it is something that can be enjoyed by the entire family—a rare enough quality these days. This DVD called "A Wild Life" is a must-have for the Christmas wish list. There are three segments, each 42 minutes long. Part One is a collection of Kevin's comedy routines and are suitable for family viewing. Part Two is a video compilation of much of Kevin's wildlife work that has taken him around the globe, such as footage with polar bears in the town of Churchill, Manitoba, Canada or working with rescued seals in Ireland or tracking endangered vultures in Mongolia. The third segment of the DVD is devoted to children and has some incredible games that adults will no doubt sneak out of their kids' rooms to try for themselves. "One game, called "X-Rays" shows various x-rays and allows the kids to make the diagnosis", said Kevin. "It's 30 years of what I've cut out of dog's stomachs. So they see the x-ray and we say that the dog was near a Christmas tree and we're worried it might have eaten a Christmas ornament and allow the kid to make the diagnosis. They decide whether or not the dog needs surgery and we help direct them in their decision- making. Another game has 22 North American mammals and birds and their footprints. So these are footprints a kid might see in his or her neighborhood or around their house. We help them become an expert tracker. They can kind of go on an urban safari. It helps them become more connected to the world around them. The main thing is that this is something a parent can do with a kid or a big sister can do with a younger kid but both are going to be entertained". And if anyone knows about entertainment—it is Kevin Fitzgerald.
"A Wild Life" is available at www.DRkevinfitzgerald.com/shop