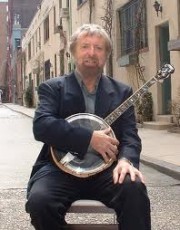 New York University's Professor of Music and Irish Studies, Mick Moloney is the pre-eminent scholar of Irish-American music from the past two centuries. Born in Ireland, the musician and singer has recorded over forty albums and hosted several American Public Television series. In 1999, he was awarded the National Heritage Award from the National Endowment for the Arts, the highest official honor a traditional artist can receive in the U.S.
Moloney's recent brought together an all-star Irish band and brass band to record, "If it wasn't for the Irish and the Jews." The project is a nostalgic look at the early days of Tin Pan Alley, when Irish and Jewish immigrants worked together to produce the songs that became the foundation of Broadway musical theater. From 1880 to 1920, Vaudeville and Tin Pan Alley flourished with the musical contributions of Jewish and Irish songwriters.
The Irish/Jewish collaborations of Tin Pan Alley were attended by all sorts of interesting identity ambiguities. There was the famous Norah Bayes who had a huge hit with the Ziegfeld Follies with the song "Has Anybody Here Seen Kelly?". Bayes was actually born Norah Goldberg but changed her name, one assumes, partly to appeal to the huge Irish-American urban audience of the day in variety theater and vaudeville. One of her five husbands was Jack Norworth who wrote "Shine on Harvest Moon" with Norah and also the huge hit "Take Me Out to the Ball Game." Norworth himself also wrote and sang scores of Irish songs. The noted "Jewish" star of the New York stage, Eddie Foy, was actually Edwin Fitzgerald!
Though there were doubtless tensions and competitiveness and the usual business break ups and make ups, the Irish/Jewish Tin Pan Alley collaborations represent essentially a charming story of decades of good natured ethnic flux, competition and cooperation which left a lasting imprint on the history of American popular music.
"If it wasn't for the Irish and the Jews" met acclaim from music critics including Earle Hitchner of the Irish Echo: "No one has succeeded more in taking this once vital part of Irish American culture out of musty archives and moldering dissertations and placing it afresh on CD and concert stage than Mick Moloney."
The Rocky Mountain Jewish Historical Society & Beck Archives
Center for Judaic Studies and Penrose Library, University of Denver
invites all interested parties to join the RMJHS Annual Meeting Sunday October 30, 11:00a.m at BMH Synagogue Social Hall, 560 S. Monaco Pkwy, when Dr. Moloney illustrates his presentation of the musical origins of Tin Pan Alley with live musical performances.
Tickets for this entertaining and insightful examination of cultural cross-pollination in a bygone era in U.S. cultural history are $10 and must be reserved by October 20th
For Information please call Professor Jeanne Abrams at 303-871-3016.