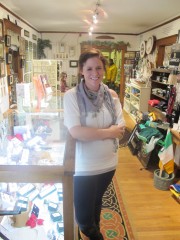 Among the row of boutique shops, you'll find a little yellow cottage on the corner of West Alamo Ave and Curtice Street that beckons you inside -and you should enter. You might think that you stepped though a time/space portal and that you're somewhere on the west coast of Ireland, but you are actually in Kerreen O'Connor in historic Downtown Littleton, Colorado.
It has everything that you might find in an Irish gift shop, and even a bit more.
There are treasures of exceptional quality and other novelties designed to get a laugh. Bring your Christmas list because you'll find something there for everyone.
We made a visit to Kerreen's over Thanksgiving. Shop proprietor Lillie O'Connor Shobe and staff had just finished decorating or the Holiday season. Walking through the front door we were greeted by Lillie and a new Christmas display complete with Irish and Celtic ornaments. As we moved about we discovered fun nooks and crannies of barware, jewelry, home décor, apparel, and other themes. There was even a section of imported Irish treats. One gift idea – You can fill a basket to please any taste bud with cookies, crackers, candies, and bread – and of course don't forget the season's, favorite Barry's tea.
Looking for a way to spice up your holiday party? Kerreen can outfit you in a traditional kilt eveningwear sure to turn everyone's heads. (We were advised to tell you to call soon on Kilt rentals as holiday reservations fill up quickly).
During our impressive tour Lillie pointed out more gift ideas (or gift yourself!), from traditional favorites to new items brought in for the Christmas season.
On the traditional side, Lillie point out their fine display of Belleek China which is crafted in Ireland and hand-painted. Featured were functional pieces like tea pots, cups, flower vases as well as decorative Celtic crosses or a snowman ornament.
Various sizes of Belleek picture frames are available for displaying family memories while incorporating the Irish culture.
Along the same line of quality are the Galway Crystal Vases. These are beautiful long lasting pieces and one of the few crystal companies whose operations are still in Ireland.
This year Kerreen's are highlighting wool textiles. "We have a range of John Hanly and Company scarves made of 100% wool and the oh so traditional Aran Knit sweater." said Lillie, "We also carry a variety of sizes and colors of vintage flat caps for the men on your list who are so hard to shop for."
Another popular item is the Claddagh Ring. With a rich history dating back to over 300 years, the traditional Irish Ring is often given as a token of love or worn as a wedding, but be careful, as it also can be a sign of "available' depending of how the ring is worn. How you were the ring should be easy, picking the right on is the challenge. "As usual, we have over 6 different varieties of Claddagh rings. These are the perfect gift for almost anyone on your list," extolled Lillie, "With styles ranging from sterling silver to 10k gold and including both men's and women's designs there is something for everyone – all of which are made in Ireland and hallmarked in Dublin castle."
Although Lillie was sad to say that they could not offer the traditional Irish gift of a pint of Guinness, they did have in stock this year's newest t-shirt styles and wall art for your favorite Guinness lover. "One of our favorite new products from Guinness this year is a gold and grey breathable rugby shirt." Very nice!
Some of the stores new items the Lillie pointed out were two new jewelry lines. "The Keith Jack line offers unique pieces inspired by the raw beauty of the Irish and Scottish landscapes. The other line, Celtic Harmony, includes two tone pieces of sterling silver and gold as well as gemstone pieces that are designed by a father daughter team out of Dublin."
There was also a beautiful new collection of rosaries made in Ireland including rosaries made of Connemara marble, genuine mother of pearl and glass beads. On the other end of the spectrum was a green beer drinking Santa and decorations to make your home more festive, the Irish way. Like we said, "Something for everyone!"
So what was Lillie's favorite new addition to the store? "For the first time in many years, we have been able to get in Butler's chocolates. These chocolates are to die for. Their slogan, "purveyors of happiness" could not be more true. Our favorite is the Irish whiskey truffle candy bar made with Jameson Whiskey, but we invite you to come try all the varieties to find your favorite."
The Celtic Connection
Kerreen O'Connor LLC
2595 W Alamo Ave. Curtice ST
Littleton CO 80120
303.794.6388