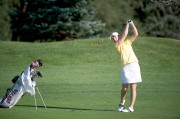 Denver University Senior and Golf Team member Sarah Faller hasn't exactly narrowed down what she will do when she graduates – maybe attend more school, go to work in Finance, teach golf, or if she has a great next 7 months of golf she might consider turning pro. One thing is certain, she has no plans to coast through her last year at DU, she is going to finish with focused intent.
"My freshman year we finished 5th at Nationals. This year we have a very talented passionate team, I am determined to do everything I can both on and off the golf course to get back to Nationals this year. I want to leave the golf program in a strong position like I found it. I feel like Denver has given me a great opportunity and I want to give back."
Her desire for success can be traced back to her roots in Galway, Ireland. Inspired by her "golf fanatic" dad Bill, and encouraged by mom Catherine, Sarah took up golfing at age eleven. "Mum was adamant that my sister Ruth and I would learn how to golf, play tennis and swim. I can swim not gracefully but I get by, can knock it about pretty decent at tennis, but I fell in love with golf. My dad probably plays about 5 times a week. I originally played because he loved it so much and I got to spend time with him but like most things it didn't take me long to become competitive at it. It's not that I want to win; it's that I just despise losing at anything, video games, pickup games with friends, dominoes.." She chuckled and added, "It's mostly a good thing – - Fortunately my roommates have been very easy going and laugh at me rather than take offense!"
Sarah's achievements on the golf course helped widen her college options in Europe and the U.S.
She spent a year traveling after secondary school and decided that she wanted to continue her education in the States. "I still had itchy feet and wanted to go live somewhere else for a while. The States was an easy solution as I could continue golfing, traveling and get an education at the same time." After analyzing her personal and family criteria she choose DU.
"My parents wanted me to attend a strong academic University and I wanted to go to a top 30 golf program. In the end DU seemed to be the best fit. I talked to the Coach Sammie (Chergo) a few times and then she came to visit me when I was golfing in Florida. I liked her straight off the bat and decided to sign on instinct without ever having visited Colorado – came on my official visit a few months later and luckily loved it."
Coach Sammie has also expressed delight over Sarah's decision to attend school in Denver. "In her four years at DU Sarah has been an outstanding golfer, student and leader. We have been fortunate to have her in our program and look forward to her leadership in her final spring season."
Initially there was a bit of adjustment to make when Sarah moved from Galway to Denver.
"Coming from a small town I felt a bit out of my depth for the first few weeks. The great thing about playing on a small team is that it's like joining a family and that certainly made it easier." There was also the matter of her Irish brogue. "My friends had no idea what I was saying the majority of the time and I got the nickname mumbles". Now that she has learnt to talk with a bit more of an American twang it's the Irish that give her a hard time. "I usually go home for 3 or 4 weeks during the Summer and over Christmas. I get teased for talking American saying "trunk" instead of "boot" and calling the "bin" a "trash can." Additionally their isn't as much pride in your university in Ireland as there is over here, and since half my wardrobe has Denver in oversize letters on it I am considered a bit of an oddball!
Sarah refers to her older sister Ruth as "brain box" because she is a Trinity College Dublin law student graduate and is doing an MBA program at Smurfit University, but Sarah has proved to be no slouch in the classroom. She has made the Dean's List, and has been an Academic All American for the past 3 years.
Her approach to the classroom seems to be one of curiosity more than of competitiveness. She listed her favorite classes as drawing and oil painting, astronomy, entrepreneurial finance, and philosophy but added, "I have a pretty diverse range of interests and if the teacher is interesting I get sucked in to subject. I could be described as a closet nerd."
Majoring in Finance, Sarah has given thought to the Irish economy more than most and is confident that things will turn around for the better. "In quite a few of my classes we have discussed the Irish financial crisis. The saddest part about the situation is that the infrastructure, culture and economic framework of Ireland were very efficient. The crash seems to have occurred purely from bad financial management. I would not claim to be an expert but I feel that the banking practices need to be more transparent and they need to entirely steer clear of buying foreign debt, or hire experts from those countries to explain the risk of what they are investing in. I am optimistic that because the reasons for the problem were so isolated that Ireland will recover and start growing again in the near future."
Time management is always a challenge for student athletes as can be seen by Sarah's schedule. "We workout at 6am on Mondays, Wednesdays and Fridays as a team. Practice runs from 3-6ish during the week and varies on the weekends. To accommodate this I try to take classes between 8-2. The ideal schedule is class 8-12 Monday to Thursday with Friday off but that's rarely possible. We are in season all year round which I like because it means I get to travel every 2 or 3 weeks."
One might think that with a schedule like that there would be no room or interest in hobbies, but that is not the case with Sarah. "I grew up close to the ocean and have always loved it. I got scuba certified last Christmas and have gone diving as much as possible since then. Living in Colorado I climb and hike too. If it's outside and adrenaline filled I am in. When I head home in a few days I am going to learn how to surf with my cousin Niamh in Lahinch."
Her friends at DU also go out of their way to give Sarah the "authentic American experience". "I got to cowboy last year – genuinely herding cattle on horseback, went camping in Yellowstone National Park, shot some guns at a rifle range, lion dancing, my assistant coach taught me how to cheerlead which was hilarious as well as being forced to watch The Patriot, Friday Night Lights, Rudy and Forest Gump. This was the first year I stayed for Thanksgiving, I was fortunate to spend it with a lovely family from Highlands Ranch so check Thanksgiving off my American list."
Having lived in the States for a number of years, Sarah has gained perspective on the special relationship of Irish-Americans to Irish/Ireland. "America is a brilliant but young country. I feel that a lot of the Irish/America relationship is about establishing history and a sense of culture. It helps that both parties are very friendly and extroverted. It appears that Irish people when they go abroad quickly get involved in their communities and branch out a lot while still maintaining the spirit of home, giving a good impression of what we are about. I recently found out about the network of Irish people in Denver, it amazes me how organized and welcoming they are. I wish I had discovered it earlier!
So what does she think of our wild St. Patrick's Day celebrations here? "My first year I ducked for cover because the celebrations were crazy. The last few years I have rolled with it – it's a great excuse to talk up your country and celebrate Ireland. My parents and I made it to the parade (Denver) last year. It made me very proud to be Irish."
So Sarah, you are heading home for the Holidays – other than friends and family, what do you miss most about Ireland? "I miss the heavily sarcastic sense of humor, GAA and Rugby matches and being able to say Aon Sceal (what's the news?).
Pat McCullough/December 2011 Celtic Connection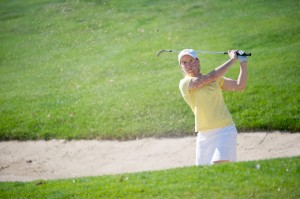 [caption id="attachment_598" align="alignnone" width="224" caption="Sarah was invited to the Colorado Governor's Residence in November to meet Ireland's Ambassador Michael Collins, and also met some other Colorado Irish including fellow Galway native Noel Hickey (owner Celtic Tavern, Denver)."]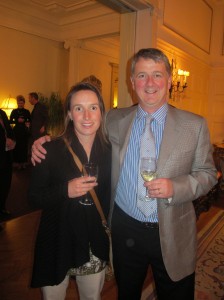 [/caption] [caption id="attachment_600" align="alignnone" width="300" caption="The Faller Girls"]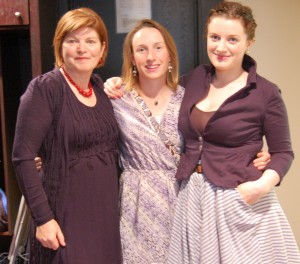 [/caption]