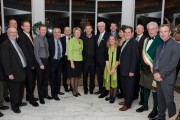 by Rodger Hara
In January 1919, Michael Collins of Sam's Cross, Clonakilty, West Cork, helped newly-elected President Eamon de Valera escape from a British jail. President de Valera returned to Dublin and then made his way to the States where he embarked on a fund raising trip that brought him to Denver on July 2, 1919. Here, he made an appeal to the ex-pat Irish community for money to help fund the struggles (and, legend has it, to search for the grave of his father, who may have died here of tuberculosis – but sin scéal eile – that's another story).
In November 2011, His Excellency Michael Collins of Dublin (no relation to The Big Fella but also a tall man), Ambassador of Ireland to the United States, visited Denver and displaying a keen wit and grasp of Irish history noted that it only took another 92 years to get Michael Collins to Denver after Dev's visit.
On November 3rd and 4th, Mr. Collins and his wife Marie, accompanied by Consul General Gerry Staunton and with Irish Network Colorado Board President Ciaran Dwyer as an able guide, was shown as much Colorado Irish hospitality, culture, economics and education as could be accommodated in 48 hours.
A graduate of Blackrock College, Dublin (the same college attended by President de Valera) Mr. Collins has been a career foreign services officer since 1974 and has served in embassies in Rome, Saudi Arabia and the Czech Republic. From July 2001 to July 2007, he was Second Secretary General in the Department of the Taoiseach with responsibility for International and European Union Affairs and particularly the Northern Ireland Peace Process.
In the series of events hosted by Irish Network Colorado with support from members of the Irish and Irish-American communities, Mr. Collins met with Mayor Michael Hancock, staff at the Metro Denver Chamber of Commerce and Metro Denver Economic Development Corporation, Regis University, Metropolitan State College and CU Denver. He spoke at a public gathering in the law offices of Rothgerber Johnson and Lyons, had dinner with members of the community at Strings, the Capitol Hill Denver restaurant owned by Noel Cunningham, visited the facilities at Covidien, an Irish-owned company with facilities in Boulder, lunched with students and faculty at the British and Irish Studies Center at CU Boulder, took a backstage tour of Red Rocks Amphitheater with Barry Fey and attended a reception in his honor at the Governor's mansion where he met Governor Hickenlooper and his wife Helen Thorpe and spoke to the invited guests.
The primary focus of his remarks at the various events was that the economy in Ireland is well on the road to recovery from the effects of the worldwide Great Recession. He noted that even with the losses suffered in Ireland, conditions have never reached the level of the beginning point of the run-up to the height of the roaring of the Celtic Tiger and that the economy is expected to show modest growth rates of one percent this year and two percent next. "The last three years have been difficult," he said. "We were hit by a perfect storm, if that's the correct phrase, of a banking crisis and a housing crisis. It affected us very deeply." He went on to stress that "Ireland is very much open for business. We are definitely on the road to recovery." He also said that a recent United Nations study showed that Ireland is the seventh most developed country in the world and emphasized the strong economic ties between Ireland and the US, with 9% of US investments in Europe going to Ireland – and 5% of the US' global investments in Ireland as well. He made special note of President Obama's trip to Ireland earlier this year and referenced the value in the connectedness of the 60 million people of Irish descent around the world with the 5 million who still live there. "If you've been there", he said, "come back. And if you haven't been there, come."
Highlights from his visit were many. A few that stand out include his warm welcome by Jim Lyons, Honorary Consul of Ireland in Colorado and recipient of an honorary doctorate from the University of Ulster in recognition of his hard work in helping with negotiations around the Northern Ireland peace process; his recognition of Mike Sullivan, former Governor of Wyoming and former US Ambassador to Ireland, another major player in the signing of the Good Friday accord and the man who introduced the Stetson hat to Ireland; his visit to the Boulder facility of Covidien, the Irish-owned international medical equipment, supplies and pharmaceutical company with $10 billion in annual sales; his tour of the British and Irish Studies Center at CU Boulder where he spoke to the faculty and staff about his hands-on experiences during the Northern Ireland peace process; the backstage tour of Red Rocks Amphitheater he was given by Barry Fey, the concert promoter who brought U2 to Denver and introduced them onstage when their famous Under a Blood Red Sky music video was made – Barry told Mr. and Mrs. Collins that it's his voice on the video introducing the band. Mrs. Collins asked if the video was on YouTube. Barry replied, "What – you can't buy a copy?" Mrs. Collins reminded him that there's a recession going on; at the reception at the Governor's mansion, Ciaran Dwyer thanking Horan McConaty Mortuary and Casey O'Connor for providing the transportation for the Ambassador's visit and got a laugh noting that it wasn't a hearse; presentations to Mr. Collins of a Michael Collins Pipe Band polo shirt by Jay Leasure and Jim Murphy, a Denver Gaels jersey by Shay Dunne, Kyle Shane and Eamonn Ryan and a letter of welcome from members of the Michael Collins Chapter of the Ancient Order of Hibernians; finally, Governor Hickenlooper's recognition of Colorado's strong ties to and connections with Ireland and his making special note of his personal ties through his wife, Helen Thorpe, who was born in England to Irish parents who emigrated to the States when she was an infant – and that Helen, a writer, spent six months doing research for Hollywood producer Jerry Bruckheimer for a film about the life of Veronica Guerin, the Sunday Independent journalist whose stories on the drug trade in Ireland led to her murder in 1996.
Mr. and Mrs. Collins, Consul General Staunton and the several hundred in attendance at the reception enjoyed the fine food and drink provided by Noel Hickey of the Celtic Tavern, John Elliott of Scruffy Murphy's and Diageo North America and mingled until Mrs. Collins reminded Mr. Collins that they had need to retire as they had to be in New Orleans the next day for the opening of the 17th Irish Network chapter – and that the Governor and his wife couldn't leave until they did – and young Teddy Hickenlooper was waiting at home for them.
Mr. Collins closed his remarks at the public presentation and the Governor at the private reception with the same quote from William Butler Yeats poem The Municipal Gallery Revisited:
You that would judge me, do not judge alone
This book or that, come to this hallowed place
Where my friends' portraits hang and look thereon,
Ireland's history in their lineaments trace,
Think where man's glory most begins and ends,
And say my glory was I had such friends.
Photographs and videos of Mr. Collins visit may be viewed at the Irish Network Colorado website, http://www.irishnetworkco.com, the Celtic Connection website, www.CelticConnection.com or the Celtic Connection facebook page www.facebook/celtic.rockies