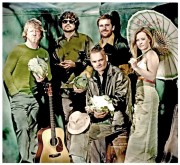 They're back! By popular demand, Gaelic Storm blows back into Colorado Friday November 11 and Saturday November 12 for two raucous, crowd-pleasing performances at the Stargazers Theatre in Colorado Springs, and the following night in Denver at the Gothic Theatre. Don't miss this opportunity to sing along with one of the hottest Celtic bands firing up the stage in performance venues across the country!
Gaelic Storm's popularity skyrocketed after they appeared in James Cameron's epic film, Titanic as the Irish party band in the ship's steerage. Since then, the band has amassed a large, loyal and ever-growing following. The band has flourished in an extreme DIY fashion by not only launching their own label, Lost Again Records, and releasing their albums themselves (several albums on Top-5 of the Billboard World charts) but also by designing all their own album art, posters and advertisements.
While Gaelic Storm plays Celtic music that hearkens back to the traditional music of Ireland, they are hardly traditionalists, adding modern sounds and drawing influences from American rock and pop as well as music styles from around the world. The band has made countless television and radio appearances, and there are official videos and heaps of fan-posted live YouTube clips (often with the crowd singing as loud as the band).
Be There when the "ever feisty" (Phila. Daily News) GAELIC STORM, will serve up a "whirlwind ruckus" (Village Voice) at the Stargazers Theatre on Friday November 11th and again Saturday November 12 at the Gothic Theatre.
Both shows are "An Evening With" with Gaelic Storm doing two sets. Showtime is 7:30PM with Doors at 6:30PM
ALL AGES SHOWS (Gothic Theatre Under 16 must be accompanied by parent or guardian)
Gaelic Storm is: Patrick Murphy (Cork City, Ireland) Vocals, Accordion, Harmonica; Steve Twigger (Coventry, England), Vocals, Guitar, Bouzouki; Ryan Lacey on drums and world percussion; Jessie Burns on fiddle (Suffolk, England – lives in Colorado) and Pete Purvis ( Merrickville, Ontario) Uillean pipes, tin whistle, daeger pipes and highland pipes (a Grade 1 piper who toured with award winning pipe bands).
TICKETS: Friday Nov 11 Stargazers Theatre CO Spgs
www.stargazerstheatre.com or by phone 719-476-2200 (subject to service and handling fees).
Advance Tickets available without service fees at Jack Quinn's Irish Pub, 21 South Tejon St., Colorado Springs CO
TICKETS: Saturday November 12 Gothic Theatre Denver/Englewood www.GothicTheatre.com or
Info/Tickets call Celtic Events 303-777-0505
"Like" us on Facebook at www.facebook.com/celtic.rockies