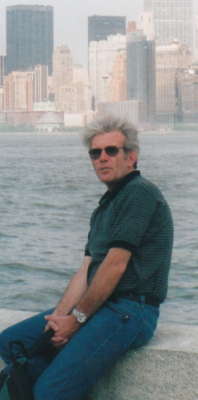 Charles "Chuck" McLaughlin, 59, passed away suddenly on Sunday, June 12, 2011 in Albuquerque, New Mexico at the home he shared with Judi, his wife and best friend of 42 years.
A few years ago a band that we have history with asked Celtic Events/ The Celtic Connection to promote and produce a show in Albuquerque, New Mexico. In some ways this was a bad idea since we had never been there before, knew no one, and the town had a reputation as a tough market for shows. On the other hand, the idea was appealing
since it fit into our plans to expose the Celtic Connection newspaper as a niche resource to as many folks, businesses, and organizations as possible who live, work, and play up & down the Rockies. I decided to take the opportunity to reach out further with the CC and took the show.
From Denver I researched Irish/Celtic organizations in Albuquerque – One of the names I came across was Chuck McLaughlin, Irish Freedom Committee. When I contacted Chuck I learned that he had also been a member of the Irish American Society of New Mexico and had publicity experience as media director for the Rio Grande Celtic Festival. When he understood what we were attempting to do in "Albu" he immediately went to work putting together names, numbers, and ideas that might assist us in promoting the show. I was so impressed by the effort he made to help a person that he had never met. He never tried to feel me out to learn who I voted for, what I prayed to or any other hot-button topic of judgment – he was just trying to help another human being who needed a hand. I soon learned that this was not an isolated incidence – Chuck was a man who unconditionally helped people as a way of life.
There was more than a little nail biting when we drove from Denver to Albuquerque for the show. Soon after we arrived at the venue Chuck and his good buddy Don Murphy showed up and asked, "How can we help?" I can't tell you how comforting those words were, as we were working with a skeleton crew of my wife, me, and our then four year-old boy – who wasn't much help but a good source of entertainment.
Subsequent trips to New Mexico always came with advice and helpful tips from Chuck. He loved New Mexico, and would always have good travel suggestion -given in his candid delivery, "..Most New Mexicans consider Santa Fe to be a waste of time and money…Taos is a far more friendly and affordable town and is my own favorite NM town." Heavily involved with the Celtic League and the Irish Freedom Committee, Chuck would forward press releases to me regularly for consideration in the Celtic Connection. He was never pushy, presumptuous, and did not show contempt if his article was not published. But, when something was published about NM or one of his projects, he was over the moon with gratitude, making comments like "Dinner's on me!"
By coincidence or by one of those serendipitous moments that get you wondering about a bigger picture, I came across one of those grateful emails from Chuck the night before he died. It said, "I owe you Pat and you know that whenever you and your family find your way to New Mexico, you stay here as our guests." No Chuck, I owe you. Our thoughts and prayers go out to Chuck's friends and families. He will be remembered and missed. Pat McCullough The Celtic Connection/Celtic Events