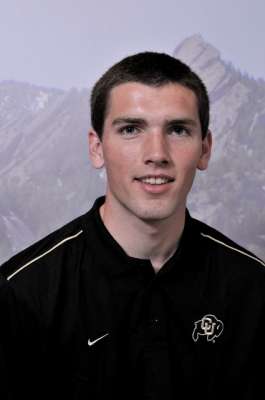 by Alan Groarke
There's an old Irish proverb that states 'an ounce of breeding is worth a pound of feeding'. Well that adage can definitely be applied to Darragh O'Neill who has just been announced as the starting punter for the CU Football team. Darragh has never before played in a competitive American Football game in High School or College and only took up punting last winter.
Darragh was born in Ireland with both parents providing a serious Gaelic Football pedigree. His father Colm won All Ireland medals with County Cork while his uncle Maurice Fitzgerald also won All Irelands with County Kerry and is revered for his incredible contribution to the game. Most Irish people would have Maurice in their top 5 Gaelic Football players of all time.
Darragh's family left Ireland when he was 2 and moved first to Michigan where his father earned an MBA before they settled in Louisville. Colm owns the popular Conor O' Neills pub in Boulder as well as a sister pub in Ann Arbor, Michigan. Darragh grew up playing Baseball, Soccer and Basketball before concentrating on the latter two sports in High School. However, it looked like a promising sports career would be cut short when Darragh fell ill with a rare blood disease during his sophomore year. The illness baffled doctors and caused his lungs to hemorrhage just before he slipped into a coma for five days. A priest delivered last rites, and the outlook did not look good. Amazingly, he bravely fought the illness and eventually recovered back to full health. Doctors felt it would be quite some time before he would be able to play sports again and probably not competitively because of the damage to his lungs. This would not deter Darragh who worked hard on his fitness and managed to recapture his place on the Fairview High School Soccer and Basketball teams. He was an All-State soccer player and led the basketball team to back-to-back Class 5A State Championship Finals with thrilling displays along the way. He was named Colorado Basketball Player of the Year in 2010 and averaged over 23 points a game as a point guard.
Surprisingly, Darragh did not hear from many Division I colleges – only the University of Denver invited him as a walk on although he had many Division II scholarship offers. Instead, he enrolled at CU but did not play basketball or soccer in his first year. Then last winter, Darragh took up punting, thinking it might be a way to play major-college football. "I played soccer, so I knew I had a decent leg anyway, so I just started working on punting with my dad, trying to figure it out…It was something I always wanted to do in high school. I just never felt I had the time."
A friend hooked him up with local kicking coach Matt Thompson and a tryout with CU special teams coach J.D. Brookhart in March led to Darragh getting his shot. He immediately caught everyone's eye after kicking a number of monster kicks. Darragh then had a battle on his hands all through the spring and summer to perfect his technique and ensure he had a consistent kicking game. He was competing against two other seasoned punters but CU Head Coach Jon Embree was convinced by Darragh's skill, determination and toughness. He named the twenty year old as the starting punter for CU's first game, which takes place on September 3rd in Hawaii.
It's unheard of that someone plays their very first competitive game in a sport live on ESPN in front of a national audience. But then 'Darragh' in Gaelic means "oak tree" and it is that tenacity which has seen him recover from a life threatening illness and rise to the top of all sports that he has decided to play.
Not nearly satisfied with baseball, soccer, basketball and American football, he is an accomplished rower and has played Gaelic Football. Under the tutelage of his famous uncle Maurice, not only did he learn rowing, but he took home an All Ireland Rowing Medal after just a summer learning the sport. Darragh also has a North American Under 18 Gaelic Football medal, won while playing for our very own Denver Gaels. Indeed, he probably would have been able to contribute more to the club if his summers weren't spent in Ireland with his family.
Darragh comes from a family of eight where sports plays an integral role and they continue to provide a conveyer belt of talent to sports teams here in Colorado. His brother Shane is also an outstanding soccer and basketball player and played with Fairview in the State Basketball Final last year. He is currently on the development squad for the Colorado Rapids and would love the opportunity to play professional soccer. Darragh has two other brothers – Enda and Mark and two sisters – Kate and Grace. His parents Colm and Christine regularly spend their weekends chauffeuring the kids to different tournaments around Colorado. CU now want to take over that role starting with a trip to Hawaii for Darragh's debut as an American Football punter.