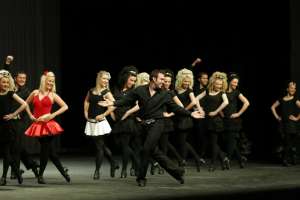 Photo: Professional Irish Dance Troupe, "Strictly Irish" will perform Saturday at 1p.
Barleyjuice · Albannach · Enter the Haggis· RUNA · McPeake · Seven Nations Colcannon · The Indulgers · The Hounds of Finn · Potcheen · Mythica · Gob's O'Phun Skean Dubh · Mondragon · Juice O The Barley · Lougheed · Strictly Irish Dance Troupe Irish Dance· Michael Thompson · Pipe Band Competition · Denver Gaels Irish Sports Cultural Village & Pub · Storytelling · Celtic Marketplace · Kids Area · and a beautiful view of the Rocky Mountains from the reservoir at Clement Park! CLEMENT PARK, 7306 W Bowles Ave, Littleton, Colorado 80123 Dates/Times: Friday, July 8th 5pm – 10pm Saturday, July 9th 10am – 10pm Sunday, July 10th 9am – 6pm Cost: Free for Kids 12 and under all weekend! Free Parking & Shuttle! Friday, Free for all who arrive at the Festival Main gate 5pm – 7pm. After 7pm, $5 per person (12 & under Free). Saturday & Sunday Advance: $12, $8 Seniors over 65, students with valid ID and Military personnel with active ID, (12 & under Free). Saturday & Sunday at Gate: $15, $10 for Seniors over 65, students with valid ID and Military personnel with active ID, (12 & under Free). Sunday Mass 10am on Celtic Stage. Admission is free between 9-11am. A free-will offering of non-perishable food items will be accepted the main gate. Donations will benefit the Denver Rescue Mission. Advance Tickets Available at King Soopers, Telephone 866.464.2626 or 719.576.2626. Information/Tickets online at Colorado Irish Festival
Every Year since 1994, the Colorado Irish Festival has been showing folks how to have fun the Irish way! Be Irish July 8-10 at Clement Park, in Littleton! Entertainers scheduled to provide the musical backdrop this year include: Barleyjuice, making their Fest debut, will bring their highly contagious care-free Irish Rock. Their music has been chosen for TV and film (The Office, King of the Hill, Driven) and has been consistently ranked as "Best" by Irish newspapers; Also making their first appearance is RUNA. Contemporary yet leaning on the side of tradition, the band features Shannon Lambert-Ryan on vocals and monster acoustic guitarist Fionán de Barra (from Ireland's musically renowned De Barra clan); Whether their shirts stay on or off, Albannach will call to your primal Celtic passions with pulsating tribal drums and bagpipes; McPeake, born from the legendary musical family and school from Belfast, will continue the family's 100 year legacy of excellence with their third consecutive visit to Colorado; Also returning are Seven Nations and Enter the Haggis, two high energy bands with a history of rocking the house – 7N was described by one critic as "Explosive Seven Nations blows Palace into orbit … you'd be hard pressed to find a more original, unique but accessible group … powerful self-penned tunes and transcendent live shows. A musical force to be reckoned with, Seven Nations' day has come." ETH has been landing Billboard and iTunes World Music charting as well as major television appearances on shows like Live With Regis And Kelly, A&E Breakfast With the Arts and PBS' popular program Out of Ireland, with its multi-influence style of Celtic rock. Colorado native and fiddler Michelle MacGregor will return to her old stomping grounds with her new band Hounds of Finn from St. Paul; Some of Colorado's best bands who will be at the Fest, include Colcannon, The Indulgers, Potcheen, Mythica, Gob's O'Phun, Skean Dubh, Mondragon, Juice O The Barley, and Lougheed. There's loads more happening with Irish dance competitions and Irish dance performance by Colorado's only professional Irish dance troupe Strictly Irish. Strictly Irish is comprised of four Riverdance and Lord of the Dance former Principal dancers, six World Champions, two 2010 World Championship medal holder, two 2010 Western Regional Champions. They have been seen on PBS and on tour with Celtic Fire. Current members: Shaun Casey, Aisling Toal-Casey, Martin Percival, Louise Connolly, Marcia Speights, Jessica Lesser, Eimear Toal, Hannah Hofreiter, Kate Shinnick, Blaine Donovan, Levi Hachi with a special guest performance from the 2011 World Champion Team "The Girls of Belfast." Dueling Bagpipes will compete for awards and bragging rights; The Cultural Village will offer storytelling, music, history, and Irish genealogical workshops for adults and kids. Don't miss the Denver Gaels as they battle it out in Irish Sports with teams from around the country. And of course spend some time to shop the Celtic artisans and other vendors, and enjoy plenty of food and drink Come and be Irish this weekend!
www.ColoradoIrishFestival.com The Colorado Irish Festival is presented by The Colorado United Irish Societies (CUIS), a qualified non-profit organization incorporated in 1995 as a 501(c)(3).