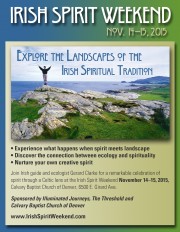 (Photo caption: Rita Berglund of Illuminated Journeys celebrates the rugged and inspirational landscape of Ireland)
Historic guide and ecologist Gerard Clark will take participants on an Irish Spirit Weekend without ever leaving Denver this month. Clark will focus on ancient Irish spiritual tradition with a special emphasis on the sacred landscapes of Ireland on Saturday-Sunday, Nov. 14-15 at Calvary Baptist Church of Denver, E. Hampden and S. Monaco,
Clark is an archaeologist and historian who has been the head guide at sacred ancient and historic sites in Ireland, including of the Hill of Tara and Newgrange in County Meath.
An advocate for the environment through what he terms eco-spirituality, Clark has studied geology, botany and zoology and worked in the mining industry. He is also a pilgrim guide, leading tours in the footsteps of St. Columban, an Irish missionary who travelled extensively in medieval Europe.
"Ger will take us on a remarkable celebration of spirit through the Celtic lens," said Brad Berglund, founder of Illuminated Journeys, which leads pilgrimages to Ireland, Scotland, Wales, France and Spain.
"We'll also mine the spiritual gems of Irish language, music and folklore," Berglund said.
The event is sponsored by Illuminated Journeys, The Threshold and Calvary Baptist Church of Denver. More information and registration is available online at www.IrishSpiritWeekend.com
Or Contact Charlotte Million, 720-480-6168.