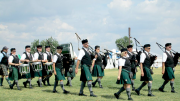 November 2015 Ceolta Notes
By Rodger Hara
November 2015 Ceolta Notes (Celtic Connection)
Brian Clancy is at Jack Quinn's in downtown Colorado Springs at 7:30 PM on the 5th, 11th and 19th and wishes all a Happy Thanksgiving! 'cause he won't be there that day and is at The Irish Snug on Capitol Hill in Denver at 8:30 PM on the 7th and 21st.
Augustana Arts presents the Colorado Women's Chorale in concert for a show titled Celtic Dreams, Jennifer Ferguson, Conductor, featuring the Wick School of Irish Dance and the Cherry Creek High School Girls' Choir on the 13th at 7:30 PM at Augustana Lutheran Church, 5000 East Alameda Avenue, Denver, CO. Tickets are $25 adult; $20 senior; $15 student; $10 children age 4-17 years and are available online at www.AugustanaArts.org or by calling 303-388-4962.
The Juice O'the Barley has some new members – Scott Sherman and Jay Juran who joined last May and this May respectively – and a new sound – maybe bluegrass Celtic? Last month they did their 12th annual fundraising effort for the American Diabetes Association and raised $1,160 for the ADA.
The Michael Collins Pipe Band is doing a fund-raising concert for their trip to Dublin next Easter at the Sheabeen Pub on East Iliff in Aurora on the 28th at 7:30 PM. They'll be joined by special friends The Juice O'the Barley.
Mountain Road Ceili Band is at The Margarita at Pine Creek in Colorado Springs on the 20th starting at 6:30. It's right off of I-25 at Woodmen Road on the north end.
Avourneen is at Katie Mullen's on the 13th, 20th and 27th at 9 PM, play a live set on the KRCC Celtic Show in Colorado Springs on the 15th at 10:30 AM and on the 28th play for the Contra Dance at the Westminster Grange Hall.
Kindred Spirits plays at Stella's Coffee Haus, 1476 S Pearl St, Denver, on the 15th – 10:30 AM to 12:30 PM.
The Bedlam Boys (Steve Hart and Marty Smith) at the Bierwerks Brewery in Woodland Park on the 19th at 7 PM.
Ceol Ceili plays for the Cripple Creek high school band fundraiser the 12th in Cripple Creek.
The Highland Soles Trio, Trad and contemporary Scottish and Cape Breton music with Niel, Lilly, and Ed Pearlman, Saturday, November 14, 8PM at Swallow Hill