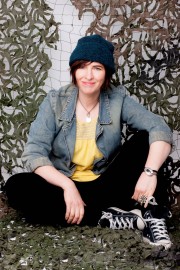 Eleanor McEvoy to Perform at Rocky Mountain Audio Fest (from October 2015 Celtic Connection newspaper)
Irish Songstress, writer, multi-instrumentalist, Eleanor McEvoyll will perform in Denver October 2,3,4 at the Rocky Mountain Audio Fest (RMAF) at the Marriott Denver Tech Center.
McEvoy achieved star status in Ireland in 1992 when her song "A Woman's Heart" inspired the title for, and appeared on, the A Woman's Heart anthology album. A Woman's Heart has since gone on to become the best-selling album in Irish history.
Her career as of one of Ireland's most popular songwriters started at age four when she performed in an Irish music competition as part of her sister's band. She later took up the violin, and began playing the guitar in her teens. She graduated from Trinity College Dublin with an honors degree in music and was accepted to the National Symphony Orchestra of Ireland as a violinist. She worked with the symphony orchestra and also as a session musician playing for many acts including U2 and Sinead O'Connor before she finally left that world behind to concentrate on her real passion—songwriting.
Since then, Eleanor has gone on to become an artist and performer known throughout the world. Her critically acclaimed canon of work spans eleven albums, forty singles, and appearances on numerous compilation albums. She is today recognized as Ireland's most successful female singer-songwriter, having enjoyed personal chart success and numerous cover versions of her songs by performers Emmylou Harris, Mary Black, Phil Coulter, Mary Coughlan, Bella Hardy, Eliza Carthy and Jack L, among others. Her song "All I Have" was featured in the HBO cult series "Six Feet Under."
RMAF has become the largest consumer audio and home entertainment show in the nation – a virtual audio wonderland. Founded 12 years ago by two small local
audio companies in Denver, the 3 day fest showcases more than 400 brands – from the aff¬ordable, to the absurd; from high-end specialty companies to Industry giants. The annual event draws vendors and audio enthusiasts from around the globe.
First time attendees can get oriented by visiting the Colorado Audio
Society table near the registration desk. There, volunteers will explain
and give guided tours of the event's complex and lively layout.
Admission is $10 for one day or $25 for a weekend pass.
Students and seniors get in for half price. Show hours are
Fri. 12 – 7pm; Saturday 9am – 6pm; Sunday 9am – 4pm.
Tickets and more information are available at www.audiofest.net.
Eleanor McEvoy is schedule to perform on all 3 days of the fest. Check her schedule at https://www.audiofest.net/attending/show-schedule/
Marriott Denver Tech Center is located at 4900 S. Syracuse Street, Denver, CO 80237
Phone 303-740-2590. Eleanor's website: www.eleanormcevoy.com