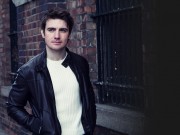 Celtic Thunder Member Emmet Cahill in Colorado Springs October 5
By Rodger Hara (from October 2015 Celtic Connection newspaper)
Emmet Cahill is returning to Colorado! He is no stranger to Coloradans, having performed here several times over the past three and a half years as a member of Celtic Thunder, the popular Irish group often featured on PBS. His visits here have also included helping local PBS stations with fund raising drives.
A native of Mountnugent, County Cavan, he now calls Mullingar, County Westmeath home and has embarked on a solo career that has taken him across America and will bring him to the Black Box theatre in Colorado Springs on October 5 at 8 PM. There, you can hear him perform everything from Broadway show tunes to classical Irish songs sung by the legendary John McCormack like I'll Take You Home Again Kathleen, Macushla and Danny Boy and traditional songs like Cavan Girl and Star of the County Down. In between, expect to hear stories about his growing up in Ireland – and growing up even more on the road and on cruise ships touring with Celtic Thunder.
Emmet grew up in a musical household and began receiving music lessons from his father when he was 4. Those lessons and his natural talent led to his receiving a 5 year "Schola Cantorum" music scholarship at his local secondary school and then formal classical training at the prestigious Royal Irish Academy of Music, from which he received a university degree in Music Performance.
He has been cast in many stage productions in Dublin and has performed on stage at the Gaiety Theatre, Dublin and as a soloist at the National Concert Hall. He is an avid sports fan and has twice sung the Irish national anthem at Croke Park Stadium in Dublin in front of crowds of 90,000. Emmet has also performed for the former President of Ireland Mary McAleese and has sung at several international rugby games in Dublin's new Aviva Stadium. He also sings regularly at the Mullingar Cathedral and at the Crover House Hotel in Cavan on the shores of Lough Sheel.
Emmet is working on an album that will be released internationally later this year and on occasion will continue to perform with Celtic Thunder as a member of that cast and family. You may have seen him perform solo numbers with Celtic Thunder: at the Black Box, expect to have all of him and only him for what should be a lovely evening of song and stories as only an Irishman can deliver them. Tickets are available at https://emmetcahilltours.ticketleap.com/emmet-cahill-live-at-black-box-theater-colorado-springs/dates/Oct-05-2015_at_0800PM