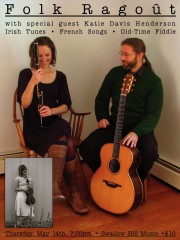 Folk Ragoût and special guest fiddler Katie Henderson will perform Irish tunes, French songs, and Old-Time fiddle, Thursday May 14th,2015 7:30PM at Swallow Hill, Denver CO , 303-777-1003. On Saturday, May 30th, 7:30pm Folk Ragoût will be in concert with Lights Along the Shore at Snowy Range Evangelical Free Church 2552 North 15th Street, Laramie, WY.
Folk Ragoût is an exciting and original duo, comprised of American flutist Leslie Anne Harrison and French singer and guitarist Frédéric Pouille.
Frédéric and Leslie met at the Irish World Academy in Limerick, Ireland and began performing together in Northern Europe and America. Folk Ragoût explores extended technique, highly textured arrangements, and percussive illusions to create a distinctive style within the tradition of the flute and guitar duo. Their music is inspired by an Irish traditional touch and focuses particularly on their French Breton and French Canadian heritage.
The French-American pair has been enjoying critical acclaim since the release of their 2011 self-titled album. While performing in Scotland with New Time Ensemble, their arrangement of "Da Bride's a Boannie Ting" was selected for the Edinburgh Folk Club's Best of 2011 Album. Folk Ragoût was chosen as a selected performer for the Southwest Regional Folk Alliance Conference in 2012, and in the same year they recorded for Liz Davis Maxfield's The Irish Cello Book, which was published by Hal Leonard. Folk Ragoût also performs and tours with New Time Ensemble.
With their great love for the traditional Celtic music of France and French Canada, Folk Ragoût's performances are unique, beautiful, and virtuosic.