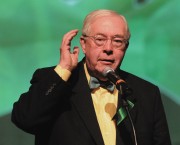 Dear Friends,
My Last Hurrah St. Patrick's Day Party
I have been hosting my annual St. Patrick's Day Party for well over thirty years. And each year it gets bigger and better and this year will be no exception; in fact it will be the biggest and best yet. Because it is the last party I will host as an elected official – yes, I will leave public office in July after forty four years – I am calling this one The Last Hurrah Party.
I hope you will join me and of course, tell all your friends.
The celebration will include all my usual elements: the traditional Irish dinner, step dancers, pipers and more, as well as my popular silent auction.
And because I have closed my campaign account (which in the past is how I paid for the party) this year the party is co-hosted by the non-profit, Education on Public Service, which produced the documentary on my life and career.
The party will again be at the Police Protective Association, at 21st and Decatur – near Mile High Stadium (yes it is still Mile High Stadium to me). The party begins at 5pm and goes to 8pm on Sunday, March15.
I look forward to seeing you on Sunday
May love and laughter light your days,
and warm your heart and home.
May good and faithful friends be yours,
wherever you may roam.
May peace and plenty bless your world
with joy that long endures.
May all life's passing seasons
bring the best to you and yours!
Denver Auditor Dennis Gallagher