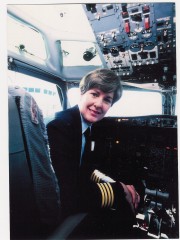 The Irish American Hall of Fame continues its mission to recognize and honor the outstanding contributions of Irish Americans to society in the areas of Arts & Humanities, Business & Industry, Public Service, Sports, Religion, Education and Science and has voted on a list of nominees for the class of 2015 to be announced in February. Among the impressive list of nominees is Emily Hanrahan Warner, born in Denver, Colorado, she made aviation history in 1973 when she was hired by Frontier Airlines as the first woman airline pilot for a U.S. scheduled airline.
Emily Hanrahan Warner with deep Irish roots, one of six children of the Boyle and Hanrahan marriage,
Emily's life reads like a Hollywood movie script. On her mother's side, the Boyle's heritage traces back to
Longford Ireland in the County of Westmeath and to Waterford, home of the famed crystal factory. Emily's father was John William Hanrahan, whose name derived from the Gaelic "O'Hangrghan." Emily's
paternal great-great grandfather left Ireland during the disastrous potato famine of 1845-1850 to seek his fortune in America. With true Irish strength of purpose, her ancestors staked their claims to land in
Minnesota under the 1862 Homestead Act. In the midst of the Great Depression, health reasons and a job with Railway Express brought Emily's family to Denver, Colorado. Born in 1939 to a loving and strong
family with few monetary advantages, Emily's determination helped her achieve her lofty goals. Inspired
by aviation as a teenager, Emily quietly paid for her aviation training by working two jobs as a Department store sales clerk and secretary for Clinton Aviation. At 18 years old, she announced she had earned her pilot's license. But, she dared not share her heart's secret desire to become an airline pilot because the common wisdom was "girls could and should not fly"…and until Emily Hanrahan they had not. On April 10, 1973, Emily Hanrahan's dreams took flight. She broke the glass ceiling of the flight deck becoming the first woman hired by a U.S. scheduled airline carrier as a pilot (in modern times) and took the controls of the Frontier Airline 737 flight #379A. In 1974, she became the first woman member of ALPA – Air Line Pilot Association. By 1976, Emily became America's first female Airline Captain. That same year, the Smithsonian National Air and Space Museum permanently enshrined her airline pilot uniform in Washington, D.C. Over the years, Emily Hanrahan Warner has been inducted into the National Women's Hall of Fame (2002), Colorado's Women's Hall of Fame (2000), and Colorado Aviation Hall of Fame (1982). That same year, she was named Amelia Earhart Women of the Year. In 1991, she was inducted into the International Organization of Women Pilots 99s Forest of Friendship. The following year Women in Aviation International – WAI inducted her into their International Pioneers Women Hall of Fame. She has been named a Living Legend of Aviation (2007). She earned the 2011 International Ninety-Nines Award of Achievement for Contributions to Aviation. The book, Weaving The Winds, by Ann Cooper Lewis chronicles the illustrious aviation career of Emily Hanrahan Warner, a proud and outstanding Irish American.
Emily is retired and continues to make Colorado home.